October 2, 2010
2010 Season - Vikings defeat Carthage 1-0 in CCIW opener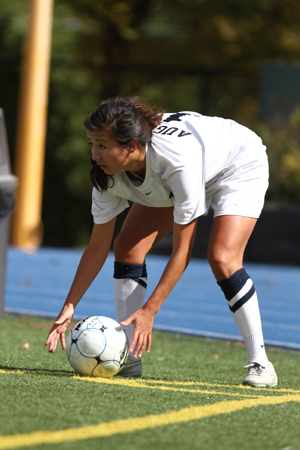 Ashley Higuchi's second goal of the season was all the scoring the Vikings would need as they opened CCIW play Saturday with a 1-0 over Carthage.
ROCK ISLAND, Ill.- Ashley Higuchi's (Smoky Hill HS, Aurora, Colo.) goal in the 58th minute would be all Scott Mejia's Augustana soccer team would need Saturday afternoon, defeating Carthage 1-0 in the Vikings' 2010 CCIW opener. Tenth-ranked Augustana improves to 8-0-2 on the season and 1-0-0 in the CCIW, while Carthage drops to 4-4-2 and 0-2-0 in the league.
Augustana controlled play in the first half, holding an 8-2 advantage in shots and a 3-1 edge in corner kicks. However, the two best scoring opportunities of the half belonged to the Lady Reds. In the 40th minute, Viking goalkeeper Kayla Radloff (West Chicago HS, West Chicago, Ill.) made a leaping save on a Katy Rosenbrook free kick. Then Rosenbrook's header on the ensuing corner by Maria Korosis, hit the crossbar, keeping the game scoreless.
The Vikings scored the game's only goal 13 minutes into the second period. Higuchi took advantage of a defensive misplay in the box and buried a shot in the upper right hand corner past Carthage goalkeeper Kelsey Harrington. The goal was Higuchi's second of the year. From there, the defense took over and Augustana posted its ninth shutout in 10 games this season to remain unbeaten.
Augustana finished with an 18-3 edge in shots, including a 6-2 advantage in shots on goal. The Vikings had five corner kicks while Carthage had two. Radloff was credited with a pair of saves while Harrington recorded five for the Lady Reds.
The Vikings are in action next on Tuesday, October 5, with a 4:00 p.m. match versus Wisconsin-Whitewater at Ericson Field.