October 1, 2010
2010 Season - Wood semifinalist for Campbell Award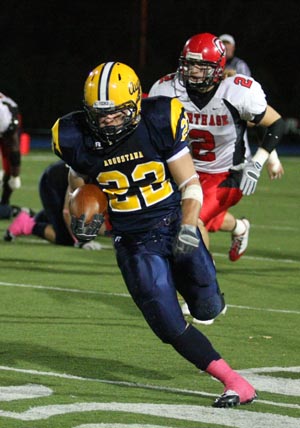 Robert Wood is one of just 27 NCAA Division III players, and the only representative from the CCIW, named as a semifinalist for the National Football Foundation's William V. Campbell Award.
Augustana senior runningback Robert Wood (Rockford Boylan HS, Loves Park, Ill.) has taken the first step to following in some pretty big footsteps. He was recognized as a semifinalist for the 2010 William V. Campbell Trophy by the National Football Foundation, it was announced today.
Wood is in elite company as he is just one of 121 senior football players across the nation (all divisions) to be named as a semifinalist. There were only 27 NCAA Division III players on the list and Wood is the only representative from the College Conference of Illinois & Wisconsin. From the semifinalist list there will be 15 finalists selected in November and each of the finalists will receive an $18,000.00 post-graduate scholarship at the NFF's Annual Awards Dinner on December 7 at the Waldorf-Astoria Hotel in New York, New York.
Augustana has produced four NFF finalists since 1998, more than any NCAA Division III institution. Chris Meskan was the Vikings' first winner in 1998, followed by Mackenzie Hay in 2000, Todd Baldwin in 2002 and Blaine Westemeyer in 2009. All four of those student athletes were also Academic All-Americans and Westemeyer was named the winner of the 2009 Gagliardi Award as the NCAA Division III "Player of the Year".
Nominated by their schools, which are limited to one nominee each, semifinalists must be a senior or graduate student in their final year of eligibility. They must have a grade point average of 3.20 or better on a 4.00 scale, have outstanding football ability as a first team player or significant contributor, and have demonstrated strong leadership and citizenship.
Wood certainly fits into all of those categories.
He has been a two year starter at runningback and last year he led Augustana in rushing with 643 yards on 134 attempts (4.8 average) with eight touchdowns. He was the Vikings' leading scorer with 48 points. During his career he has gained 1,047 yards on 197 attempts (5.3 average) with 10 touchdowns. He is currently serving as team captain and had gained 65 yards on 21 carries this fall.
Wood's classroom success is notable as well as he has compiled a 3.896 grade point average while majoring in biology with an emphasis on pre-medicine. He did genetic research during the winter of 2010 and has proctored the cadaver lab for high school students. He also volunteers as a local hospital and is a member of ACHOO (Augustana College Health Outreach Organization), Athletes Giving Back and JETS (Joint Education Through Service). In the summer of 2009 he went on an international medical trip to Nicaragua where he assisted in setting up free medical clinics throughout the country.
The son of Todd and Janet Wood of Loves Park, Illinois, is planning on attending medical school after graduation from Augustana in May of 2011.