Swim, bike, run
Competition continues to provide balance for Luke Cooley '00
October  01, 2010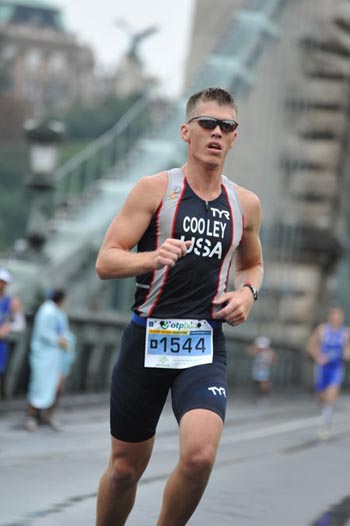 Click here to view more photos of Luke Cooley '00 competing in the ITU World Championships.
Luke Cooley never won an event as a member of the Augustana track and field team. He ran in only one conference meet and didn't bring home any hardware. But he was a member of the team for four seasons from 1997-2000, and he had instilled in him a competitive fire and work ethic that have driven him to success professionally and beyond.
Cooley graduated in 2000 with a degree in business management and was immediately hired by Modern Woodmen of America in Rock Island, where he has worked for 10 years as a system software analyst. He has stayed connected with Augustana and the Vikings track and field program, serving as an assistant coach for Paul Olsen since 2001.
Cooley has stayed active, and recently his appetite for competition took him and his wife, Meghan, Augustana's director of admissions, on a nearly 5,000-mile trek to Budapest, Hungary, where he raced in the International Triathlon Union World Championships Sept. 11.
With "USA" on the chest of his red, white and blue uniform, Cooley finished the 750-meter swim, 20-kilometer bike ride and 5 kilometer run in 1 hour, 11 minutes, 16 seconds, ranking 262nd overall and 44th in the 30-34 age division.
"It was such an exciting experience. I had a lot of fun," Cooley said. "I was proud to represent my country. It's one of those things -- as an athlete, you always think about putting on a USA uniform. I took a lot of pride in that."
A reason to run
Cooley's evolution from running in the bottom half of the Vikings corps of sprinters to world-level triathlete has been gradual. He was always a runner, but when he lost his mother-in-law to cancer in late 2007 it spurred him to enter his first triathlon the following spring, raising more than $5,000 for the Leukemia and Lymphoma Society in the process.
"I am a sucker for competition. I was like: Here's something else I can do," Cooley said. "It was a great change of pace. I had been running a lot, but it was great to add swimming and biking to the mix."
Ten triathlons later, Cooley has come a long way. His time in Budapest was by far his best to date, and he has no plans of slowing down. The competition provides a perfect balance in his life, just as it did when he was a member of the track team at Augustana.
"Being an athlete at Augustana helped organize the whole process -- the studying, the class work, the homework," Cooley said. "It helped me get into a more regimented plan. It helped me stay organized. The balance was just there. I didn't even think about it."
Cooley's college experience built his confidence and equipped him with a skill set that has served him well in the real world.
"I now have the ability to tackle projects on my own," he said. "I know how to use the resources I have available to me, and I can think on my own and take action. Those are skills I learned at Augustana."