September 30, 2010
2010 Season - Vikings move up to 10th in women's soccer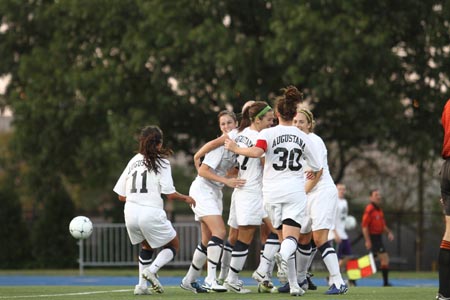 Augustana remains unbeaten in women's soccer with a 7-0-2 record and has moved up to 10th in the latest NCAA Division III national poll.
A 1-0 victory over previously undefeated and nationally ranked Loras last week helped Augustana move up one notch in the NCAA Division III national poll in women's soccer. The Vikings, now 7-0-2 overall after defeating Dubuque last night (Sep. 29) by a score of 2-1, have moved to 10 th.
Augustana now has a win over 13 th ranked Loras and a 0-0 tie against 12 th rated Calvin back on September 18.
The Vikings went through the first eight games of the 2010 season without allowing a goal. That streak was snapped last night in the win over Dubuque.
Augustana, the defending College Conference of Illinois & Wisconsin champion, will open the conference schedule on Saturday, October 2 with a 1:00 p.m. home match against Carthage at Ericson Field.
2010 NCAA DIVISION III WOMEN'S SOCCER RANKINGS
Compiled by National Soccer Coaches Association of America *** as of September 29, 2010
| | | | |
| --- | --- | --- | --- |
| RANK | TEAM | PREV. | RECORD |
| 1 | Messiah (PA) | 1 | 8-0-0 |
| 2 | College of New Jersey | 2 | 9-0-0 |
| 3. | Hardin-Simmons | 3 | 7-0-0 |
| 4. | Illinois Wesleyan | 4 (tie) | 10-0-0 |
| 5. | Otterbein | 4 (tie) | 7-0-1 |
| 6. | Johns Hopkins | 7 | 8-1-0 |
| 7. | William Smith | 6 | 7-1-1 |
| 8. | Williams | 8 | 5-1-1 |
| 9. | Wisconsin-Stevens Point | 9 | 8-0-0 |
| 10. | AUGUSTANA | 11 | 7-0-2 |
| 11. | Rowan | 10 | 7-0-1 |
| 12. | Calvin | 15 | 7-1-1 |
| 13. | Loras | 14 | 8-1-0 |
| 14. | Emory | 17 (tie) | 8-0-1 |
| 15. | Trinity | 17 (tie0 | 6-1-0 |
| 16. | Allegheny | 20 | 8-0-0 |
| 17. | Concordia-Minnesota | 19 | 6-1-1 |
| 18. | Brandeis | NR | 6-1-1 |
| 19. | Ithaca | 13 | 5-2-0 |
| 20. | Stevens Tech | NR | 8-1-0 |