'Angels and Demons' asks the tough questions
Theatre students play themselves in an original production
September  30, 2010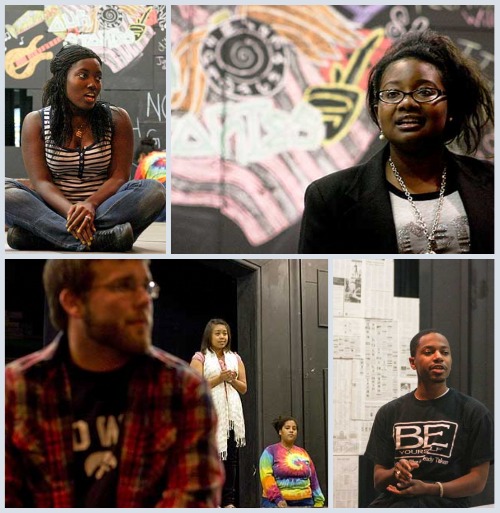 Performance dates and tickets
• Friday, Oct. 15, 7:30 p.m.
• Saturday, Oct. 16, 7:30 p.m.
• Sunday Oct. 17, 1:30 p.m.

• Friday, Oct. 22, 7:30 p.m.
• Saturday, Oct. 23, 7:30 p.m.
• Sunday, Oct. 24, 1:30 p.m.
Tickets are $11 for the general public and $9 for full-time students and faculty members. Seating for the performances is by general admission.
Tickets may be purchased online, through the ticket office at (309) 794-7306, or at the door.
The cast of the upcoming fall play is small, but the performers are ready to tackle some big issues. Wrestling with Angels and Demons is an original production which will challenge audiences to confront questions of race, politics, gender and religion.
Performances will run the weekends of Oct. 15 and 22 in the Potter Theatre, Bergendoff Hall of Fine Arts. Wrestling with Angels and Demons was inspired, written and produced entirely by Augustana students and faculty.
Rather than playing characters, the students on stage will present their own honest answers to questions like, "What does the 'American dream' mean to you?" and "Is it possible that Rod Blagojevich is blacker than Barack Obama?" The show's multimedia format and social commentary promises to engage audience members of all ages and backgrounds.
David Etheridge, a senior from South Holland, Ill., hopes the production will reveal a side of Augustana that many students do not see.
"This show is unique because it is mostly created by multicultural students… It will challenge (audiences) to rethink the racial climate at Augustana College."
Macy Marie Hernandez, a sophomore elementary education major from Bartlett, Ill., says the show's personal format has been a rewarding challenge.
"The play is told by our own stories — it's a collaboration of the actors' real experiences," she says. "I'm a big fan of storytelling and have been in countless productions, but this is different. The roles I played then were roles. Now that I'm playing 'me,' it's difficult. I hope my performance will inspire people and keep them thinking."
The six-member cast and their director, Dr. Scott Irelan, spent six months writing material for the play before beginning rehearsals. Those who attend the performances will see the fourth version of the script.
"Every production of new, never-before-seen material poses challenges that scripted, previously produced drama does not," says Irelan. "In this case, finding an overall logic for our use of popular culture, personal narrative and group writing has kept us busy."
Rachel Stearns, a senior business administration major from St. Charles, Ill., says she believes that writing the script was a strong bonding experience for the cast: "As we worked, we came to understand and respect each others' opinions and perspectives."
Irelan and the six student writers also have worked closely with Adam Parboosingh, assistant professor of theatre, who is coordinating the technological aspects of the production. With the help of students in Parboosingh's sound and lighting classes, the performers' narratives will be enhanced by music clips, projected photos and live video footage.
A long-time goal
Irelan has been eager to direct a show like Wrestling with Angels and Demons since he arrived as an assistant professor at Augustana in 2007.
"Part of my graduate work dealt with race, religion and democracy in the 1930s, so exploring the same issues in our time seemed appropriate," he says. "When Obama-mania hit the country full force, I knew the time was right for such a project."
Other shows under Irelan's direction have included The Big Funk and the award-winning, multimedia production Omniscience.
Jeremy Hoffman, a senior geology major from Dubuque, Iowa, says Wrestling with Angels and Demons has an important message for contemporary audiences.
"People have a hard time hearing what they don't believe in or care for. I think it is this very attitude that has our country in such serious trouble," he says. "Confronting these issues, if only in a theatrical setting, shows that we're part of a generation that is willing to help fix them."
Junior sociology major Victoria Owoo-Battlet agrees.
"This is a very impactful production about real issues and real people. The audience will be getting to know each of the performers in a new sense."