Learning from history, in service to history
Students dive into Putnam Museum's trove of artifacts to research, report
September  30, 2010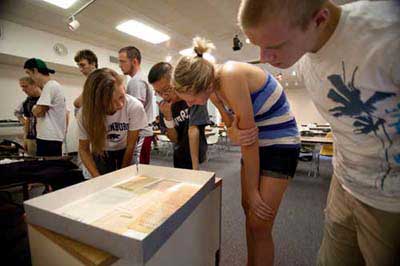 Students in Dr. Art Pitz's "Post-Civil War to World War II" look over documents and artifacts in the Putnam Museum.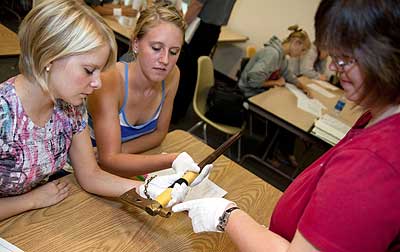 Eunice Schlichting, chief curator of the Putnam Museum, shows a Native American trade axe/pipe to students Kassidi King '14, left, and Samantha Brandt '14. King is a secondary education major from Roscoe Ill., and Brandt is a biology major from Dubuque, Iowa. (Photos Augustana Photo Bureau/Marla Alvarado Neuerburg)
Students might expect little hands-on experience from a history course. They would be wrong about Dr. Art Pitz's "Post-Civil War to World War II." Students in this 100-level class have access to a local resource that not only promotes hands-on learning in history, but also requests a direct service from them.
Shortly after the start of the fall term, Davenport's Putnam Museum hosted Pitz's history class to view artifacts from the museum collection dating from WWII and earlier. Chief Curator Eunice Schlichting and Chris Kastell, curator of history and anthropology, introduced the class to the artifacts selected.
Some artifacts are of local historical significance -- such as a Davenport Socialist Party ballot and a Rock Island Lines water jug -- and others of a national scale, including items from the Woman's Suffrage movement and both World Wars. They also represent a range of uses, from a wall-mounted telephone to a shoe-fitting X-ray machine to a gas mask.
Many of the items were surprising, even shocking. Pointing to a heavy, ankle-length woolen garment, one student asked, "Is this a swimsuit?"
"Yes and no," said Schlichting. "That's what you wore to the beach, but did you actually wear it into the water? Maybe not."
Along with the women's clothing, Samantha Brant '14 admits the item that fascinated her the most was "a book of poems that was really just a disguise to hide the alcohol flask inside of it." Kyle Meyer '14 adds, "It showed the character of many people in the United States during the time of prohibition."
The character of this particular "author" had comic bent, as he titled his clever contraption "Spring Poems: The Four Swallows" by "J.B. Corn."
As Pitz describes them, "These artifacts are material remains that reflect events and personalities out of history."
What is expected of his class? "The students select an artifact and ask the W questions: the when, why, who made it, for what purpose, and what was the context or significance to the culture during that time period," Pitz says.
A group of three to five students then works together to research and write a detailed report on the artifact. They submit the report to the Putnam Museum, according to the museum's specifications, for use in its archives and displays.
Their work has a dual purpose. According to Pitz, "This is real service learning. Students are doing a service for the Putnam Museum and its patrons, and they are learning by doing real work in history -- and doing it in a way to meet professional standards."
The hands-on approach has its benefits, as well. Meyer, who is majoring in business, notes that hands-on learning works the best for him. "I like to go out into the world and learn from my experiences -- not from a blackboard or Power Point. This is a great assignment because it takes us outside the classroom, into real history, and it helps the community."
Schlichting agrees. "This service learning project is a great partnership with Augustana and of significant benefit to the Putnam. In many cases, we do not have the time to research these artifacts, so we greatly appreciate the students' work. It's also a great opportunity for the students to see and handle historical objects that perhaps they've just read about or which give them deeper insight into a historical event or era."