September 29, 2010
2010 Season - Allowing first goal doesn't slow Vikings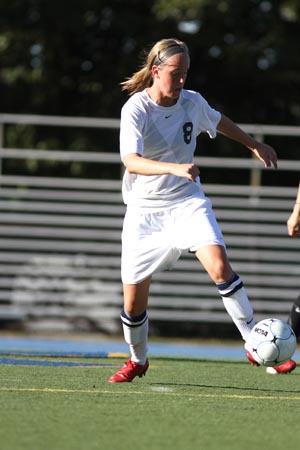 Sophomore Taylor Moesle scored a goal and had an assist as the 10th ranked Vikings defeated the University of Dubuque 2-1 on Wednesday night to stay unbeaten at 7-0-2.
Despite allowing its first goal of the 2010 season, Augustana maintained its undefeated record with a 2-1 non-conference victory over Dubuque on Wednesday, September 29 in Dubuque, Iowa. The 10th ranked Vikings scored a pair of goals in the early portion of the second half to grab a 2-0 lead and then gave up their first goal of the season with 20 minutes to play.
After a scoreless first half, junior Ashley Higuchi (Smoky Hill HS, Aurora, Colo.) got the Vikings on the board with a goal less than four minutes (48:32) into the second half. It was her first goal of the season and it came off assists from Taylor Moesle (Carl Sandburg HS, Orland Park, Ill.) and Erin Coulson (Neuqua Valley HS, Naperville, Ill. – now resides in Hermosa Beach, Calif.). Moesle made it 2-0 when she converted on a penalty kick at the 68:28 mark. It was her team-leading eighth goal of the season.
Dubuque's Kayla Vaughn scored at 70:54 to narrow the margin to 2-1 and it came off an assist from Caitlin Crane. It was the first goal allowed by Augustana in 830 minutes of play.
The Vikings' junior All-American goal keeper Kayla Radloff (West Chicago HS, West Chicago, Ill.) did come up with five saves in the game, including two in the final five minutes of action. Her final save against a shot by Crane with 1:12 remaining helped preserve the victory.
The wide open game featured 30 shots with Augustana holding a 17-13 edge. The Vikings dominated in the corner kick department, holding a 10-1 advantage.
Augustana is now 7-0-2 heading into its College Conference of Illinois & Wisconsin opener with Carthage at 1:00 p.m. on Saturday, October 2. Dubuque falls to 5-4-2.