In memoriam: Dr. Michael Nolan
September  29, 2010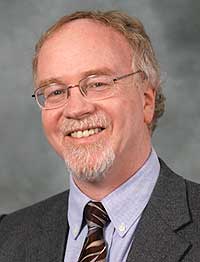 Dr. Michael P. Nolan
The Augustana community mourns the passing of Dr. Michael P. Nolan, who died Saturday, Sept. 25, 2010, in Rock Island. A memorial service will be held at 4 p.m. Friday, Oct. 1, in Augustana's Ascension Chapel.
Dr. Nolan, a 1977 graduate of the college, first worked at Augustana in 1982, when he served for two years as Resident Director of Seminary Hall. He returned to Augustana in the 1990s, joining the faculty as an adjunct instructor of English and advisor to campus publications. Since then he has served the college as both a teacher and administrator.
He is survived by his wife, Dr. Ann Ericson, associate professor of business administration at Augustana, as well as his mother, Therese Nolan, and sisters Norine Fuson, Paula Backus, Colleen Besic and Mary Beth Nolan.
"The entire campus is deeply saddened by Dr. Nolan's sudden passing," said Augustana President Steven Bahls. "He will be remembered by many for his keen wit, gentle spirit and warm-hearted friendship. I deeply appreciated his commitment to collegiality, evidenced by his many meaningful relationships with faculty, staff members, students and administrators across the campus and in the community. This includes many students, teachers and families at Rock Island's Longfellow Elementary School, with which Augustana enjoys an Adopt-A-School partnership that Dr. Nolan helped to create."
Dr. Ericson has requested that in lieu of flowers, contributions in Dr. Nolan's memory be made to the Longfellow Adopt-A-School program, in care of the Augustana College Office of Advancement.
For further information, please see Dr. Nolan's obituary at Wheelan-Pressly Funeral Home.
News story about Dr. Nolan at WVIK, Augustana Public Radio.