September 28, 2010
2010-11 Season - Vikings defeat St. Ambrose for ninth win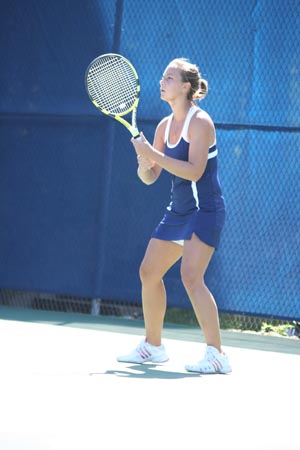 Sheri Hendricks clinched the victory over St. Ambrose with a straight set decision at No. 6 singles, improving her singles record to 6-3 on the season. Hendricks is also 4-1 in doubles for a total mark of 10-4.
DAVENPORT, Iowa – The Augustana women's tennis team nailed down its ninth win of the fall with a 6-3 victory over St. Ambrose on Tuesday, September 28 in Davenport, Iowa. The Vikings won several close matches to improve to 9-3 overall. The Blue & Gold remain at 4-2 in the College Conference of Illinois & Wisconsin.
The Vikings fell behind early with an (8-6) loss at No. 3 doubles. Senior Tricia Sapio (Barrington HS, Hoffman Estates, Ill.) and junior Brittany Reece (Naperville Neuqua Valley HS, Naperville, Ill.) rallied from a 7-3 deficit, but eventually lost (8-6) to Mary Nodland and Heather Matejka. Augustana leveled the match at 1-1 when freshmen Shannen McNamara (Battle Mountain HS, Avon, Colo.) and Kim Sawyer (Batavia HS, Batavia, Ill.) pulled out a (9-7) win at No. 1 doubles over Amanda Gomez and Adrianne Foley. McNamara and Sawyer trailed 7-6 before winning the final three games. Freshman Samantha Tonn (Moline HS, Moline, Ill.) and sophomore Krista Panko (Geneva HS, Geneva, Ill.) also won (9-7), edging Chelsea Albaugh and Rachel Sarafin to give the Blue & Gold a 2-1 lead heading into singles play.
The match was quickly tied up 2-2 when Matejka defeated Panko (6-2, 6-1) at No. 5, but Augustana won the next four matches to secure the victory. Sapio won her seventh straight singles match (6-2, 6-4) over Foley at No. 4 to give Augustana the lead. Sawyer notched her sixth consecutive singles victory and ninth win in a row, defeating Gomez (6-4, 7-5) at No. 1 to put the Vikings ahead, 4-2. Senior Sheri Hendricks (Wheaton Warrenville South HS, Warrenville, Ill.) clinched the victory with a (6-1, 6-4) decision against Nodland at No. 6. McNamara tallied Augustana's final point of the day by rallying for a (3-6, 6-4, (10-7)) win over Sarafin at No. 2. Tonn dropped a hard fought (6-4, 6-4) match to Albaugh at No. 3 to close out the match.
The Vikings are now done with the dual meet portion of the schedule for the fall. The team will send eight players to the Intercollegiate Tennis Association (ITA) Regional Tournament in St. Louis, Missouri this weekend. Augustana will wrap-up the fall by hosting the CCIW Tournament at the Quad City Tennis Club in Moline, Illinois on October 8-9.
09/28/10 – Augustana 6, St. Ambrose 3
| | |
| --- | --- |
| POS | RESULT |
| Singles | |
| 1. | Kim Sawyer (AUGIE) def. Amanda Gomez (SAU) 6-4, 7-5 |
| 2. | Shannen McNamara (AUGIE) def. Rachel Sarafin (SAU) 3-6, 6-4, (10-7) |
| 3. | Chelsea Albaugh (SAU) def. Samantha Tonn (AUGIE) 6-4, 6-4 |
| 4. | Tricia Sapio (AUGIE) def. Adrianne Foley (SAU) 6-2, 6-4 |
| 5. | Heather Matejka (SAU) def. Krista Panko (AUGIE) 6-2, 6-1 |
| 6. | Sheri Hendricks (AUGIE) def. Mary Nodland (SAU) 6-1, 6-4 |
| Doubles | |
| 1. | Shannen McNamara/Kim Sawyer (AUGIE) def. Amanda Gomez/Adrianne Foley (SAU) 9-7 |
| 2. | Samantha Tonn/Krista Panko (AUGIE) def. Chelsea Albaugh/Rachel Sarafin (SAU) 9-7 |
| 3. | Mary Nodland/Heather Matejka (SAU) def. Tricia Sapio/Brittany Reece (AUGIE) 8-6 |