September 25, 2010
2010-11 Season - Vikings split matches and move to 8-3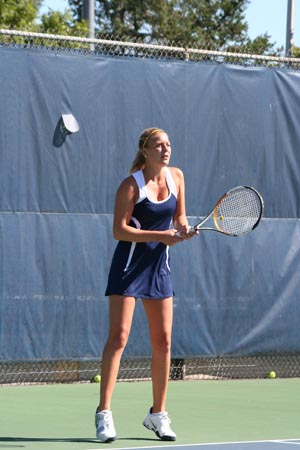 Tricia Sapio finished 4-0 against Central and North Central, winning a pair of matches at No. 4 singles and two more at No. 3 doubles. She has won six consecutive singles matches and is tied for the team lead with nine singles victories.
MOLINE, Ill. – The Augustana women's tennis team extended its winning streak to five matches with an 8-1 victory against Central before dropping a 5-4 decision to North Central on Saturday, September 25 at the Quad City Tennis Club in Moline, Illinois. The Vikings are 8-3 overall and finish the College Conference of Illinois & Wisconsin regular season slate with a 4-2 mark in the league. The win over the Dutch is the first for the Vikings since 2002 and breaks a three match losing streak against Central.
Freshmen Shannen McNamara (Battle Mountain HS, Avon, Colo.) and Samantha Tonn (Moline HS, Moline, Ill.) got Augustana off to a quick start in the morning match against the Dutch, racing to an (8-3) victory at No. 1 doubles against Sara Dale and Stephanie Gibbons. Seniors Tricia Sapio (Barrington HS, Hoffman Estates, Ill.) and Sheri Hendricks (Wheaton Warrenville South HS, Warrenville, Ill.) rallied from a 6-5 deficit to notch an (8-6) win at No. 3 over Trinh Le and Riley Taylor. Freshman Kim Sawyer (Batavia HS, Batavia, Ill.) and sophomore Krista Panko (Geneva HS, Geneva, Ill.) edged Emily Swartz and Kayla Donner (9-7) at No. 2 to complete the doubles sweep.
The Vikings picked up five more wins in singles play, including a pair of third set super tie-breaker victories from Tonn and Sapio. Sawyer was a (6-4, 6-1) winner against Dale at No. 1 while McNamara disposed of Gibbons (6-2, 6-2) at No. 2. Tonn won (6-2, 1-6, (10-3)) at No. 3 over Swartz and Sapio gutted out a (6-4, 1-6, (10-8)) decision against Donner at No. 4. Panko also won in straight sets at No. 5, defeating Bane (6-1, 6-2). Central nailed down its lone point with a straight set victory at No. 6.
Augustana grabbed the lead in doubles once again in the afternoon match with the Cardinals. Sapio and junior Brittany Reece (Naperville Neuqua Valley HS, Naperville, Ill.) cruised to an (8-2) victory over Katie Hatch and Stephanie Brunetti at No. 3 to give the Vikings an early edge. McNamara and Sawyer won (8-6) at No. 1 defeating Cory Schillerstrom and Abby Conover to give the Blue & Gold another point in doubles play. North Central won (8-6) at No. 2 doubles to get on the board.
Sawyer finished out a terrific day on the courts with a (6-2, 7-6 (7)) win over Alicia DeGrado at No. 2 singles. Sapio also completed a 4-0 day with a (6-4, 6-4) victory against Maggie Youel at No. 4. Meanwhile, North Central won at No. 1 and No. 5 to make the score 4-3 with two matches remaining. The final two matches each went to a third set, but Augustana was unable to come up with a fifth point, as the Cardinals rallied for a 5-4 road win.
Augustana returns to action on Tuesday, September 28 at St. Ambrose. The teams split the two matches last year with the Bees winning 5-4 in the fall and the Vikings earning a 7-2 win in the spring.
09/25/10 – Augustana 8, Central 1
| | |
| --- | --- |
| POS | RESULT |
| Singles | |
| 1. | Kim Sawyer (AUGIE) def. Sara Dale (CENTRAL) 6-4, 6-1 |
| 2. | Shannen McNamara (AUGIE) def. Stephanie Gibbons (CENTRAL) 6-2, 6-2 |
| 3. | Samantha Tonn (AUGIE) def. Emily Swartz (CENTRAL) 6-2, 1-6, (10-3) |
| 4. | Tricia Sapio (AUGIE) def. Kayla Donner (CENTRAL) 6-4, 1-6, (10-8) |
| 5. | Krista Panko (AUGIE) def. Carissa Bane (CENTRAL) 6-1, 6-2 |
| 6. | Chelsea Johnson (CENTRAL) def. Brittany Reece (AUGIE) 7-5, 6-1 |
| Doubles | |
| 1. | Shannen McNamara/Samantha Tonn (AUGIE) def. Sara Dale/Stephanie Gibbons (CENTRAL) 8-3 |
| 2. | Kim Sawyer/Krista Panko (AUGIE) def. Emily Swartz/Kayla Donner (CENTRAL) 9-7 |
| 3. | Tricia Sapio/Sheri Hendricks (AUGIE) def. Trinh Le/Riley Taylor (CENTRAL) 8-6 |
09/25/10 – North Central 5, Augustana 4
| | |
| --- | --- |
| POS | RESULT |
| Singles | |
| 1. | Cory Schillerstrom (NCC) def. Shannen McNamara (AUGIE) 7-6 (4), 7-6 (4) |
| 2. | Kim Sawyer (AUGIE) def. Alicia DeGrado (NCC) 6-2, 7-6 (7) |
| 3. | Abby Conover (NCC) def. Samantha Tonn (AUGIE) 6-3, 2-6, 6-0 |
| 4. | Tricia Sapio (AUGIE) def. Maggie Youel (NCC) 6-4, 6-4 |
| 5. | Katie Hatch (NCC) def. Krista Panko (AUGIE) 6-3, 7-5 |
| 6. | Stephanie Brunetti (NCC) def. Sheri Hendricks (AUGIE) 4-6, 6-3, 7-5 |
| Doubles | |
| 1. | Shannen McNamara/Kim Sawyer (AUGIE) def. Cory Schillerstrom/Abby Conover (NCC) 8-6 |
| 2. | Alicia DeGrado/Maggie Youel (NCC) def. Samantha Tonn/Krista Panko (AUGIE) 8-6 |
| 3. | Tricia Sapio/Brittany Reece (AUGIE) def. Katie Hatch/Stephanie Brunetti (NCC) 8-2 |