Climate change: 'a deep moral question'
Environmental Bill McKibben speaking here Oct. 18
September  30, 2010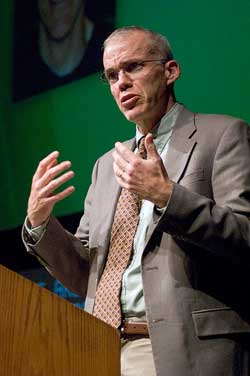 Bill McKibben speaking at Rochester Institute of Technology in 2008. (Photo by Evan Derickson)
McKibben talks Oct. 17-18
Bill McKibben will speak at St. Paul Lutheran Church in Davenport at 4 p.m. Oct. 17 on "Moral Life on a Tough New Planet." He also will speak from 10:45-11:30 a.m. in the Sanctuary on "The Bible as a Resource in the Battle for a Future."
His talk at Augustana will begin at 7:30 p.m. Oct. 18 in Wallenberg Hall in Denkmann Memorial Hall.
Local 10-10-10 Work Party events
• Celebrate Opportunity: Potluck garden dinner at Grace Lutheran Church, Davenport.
• Pray for Climate Solutions: Congregation of the Humility of Mary, Davenport.
• Augustana's Global Affect will sponsor a showing of the film Koyaanisqatsi: Life out of Balance from 3-5 p.m. Oct. 10 in Hanson Hall of Science.
Check 350.org for updated events
Bill McKibben, environmentalist and author, will speak at Augustana College Oct. 18 after helping to host what promises to be one of the biggest parties the world has ever seen.
His 350.org group is organizing 10-10-10 Global Work Party (on Oct. 10), calling on people to do something locally to help combat global warming. Thousands are expected to participate.
"The goal of the day is not to solve the climate crisis one project at a time, but to send a pointed political message," says the group.
The message is aimed at the world's political leaders: Take action on climate change.
We asked McKibben a few questions about this:
Q: On Nov. 2 the U.S. will hold midterm elections. What should citizens concerned with climate change be doing, besides showing up to vote? And how do voters find out which candidates are committed to solving the climate change problem?
A: It's awfully important to let them know that's why you're voting. A good way to see who's serious is to see who shows up at the 10-10-10 work parties -- every candidate has been invited.
Q: What specifically, can students do about climate change?
A: They can work together to get their campuses committed to greening. But they also can join with other young people at 350.org and at the Energy Action Coalition to send a strong message nationally. At this point, organization is what we need.
Q: Illinois and Iowa are far away from rising oceans and hurricanes. How would you suggest combating apathy on the issue of climate change?
A: Well, you're vulnerable to flood and to drought, both of which become more likely. But in the end, it's a deep moral question, and if you want to duck it I suppose you can, the same way you could have done with civil rights some years ago.
Q: Do you see a difference in the attitudes of college-age Americans and older Americans on this issue? If so, why do you think that is?
A: Yeah. They have a lot more years they're going to have to live on this planet, and that concentrates the mind.
Q: Is there anything in particular you'd like to say to a Midwestern audience?
A: That we face the first truly global crisis we've ever encountered, and if we don't quickly pull together we will face a world of trouble.
From the End of Nature to Eaarth
Bill McKibben began writing about the climate change in 1989 with his first book, The End of Nature. His most recent book, Eaarth, was spelled with two A's, he says, because it's about a new Earth, where glaciers are melting, the chemistry of seawater is changing and the tropics have expanded north and south, bringing drought.
McKibben and a team of university friends founded 350.org and organized the Step It Up campaign in 2007, resulting in more than 2,000 rallies in all 50 of the United States. In 2009, the group listed 5,200 actions in 181 countries on Oct. 24. These successes led to 10-10-10.
350.org takes its name from a statement by climate scientist James E. Hansen, who has said that atmospheric concentration of carbon dioxide (CO2) above 350 parts per million is unsafe. The current level is about 390 ppm, according to the National Oceanic and Atmospheric Administration.