September 28, 2010
2010 Season - Balance helps Vikings move to 2-1 in CCIW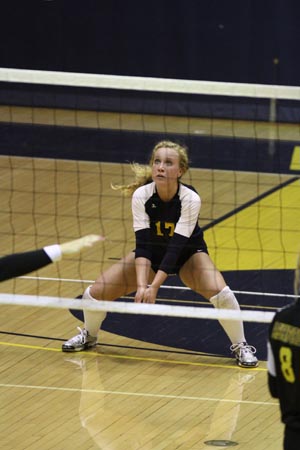 Sophomore Shannon Slick recorded 44 digs in Augustana's 3-1 CCIW victory over North Park on Tuesday night. Slick has moved into fifth place on the Vikings' all-time list for most digs in a single match.
A balanced offensive attack, with five players recording at least seven kills, keyed Augustana's 3-1 victory over North Park in College Conference of Illinois & Wisconsin action on Tuesday, September 28 in Chicago, Illinois. The Vikings won the first two games by scores of 25-16 and 25-15 before dropping game three by a score of 25-16. Augustana regrouped and won game four 25-14 to close out the match.
Senior Courtney Jungnickel (Naperville Central HS, Naperville, Ill.) and junior Brianna Skeens (Vernon Hills HS, Libertyville, Ill.) each had nine kills to lead the way. Jungnickel had 28 digs and two service aces while Skeens had a pair of service aces and five blocks (two solos and three assists).
Freshmen Kristen Yerkes (Marist HS, Palos Heights, Ill.) and Morgan Stittleburg (Black River Falls HS, Black River Falls, Wis.) and sophomore Sarah Williams (Rockford Lutheran HS, Rockford, Ill.) all had seven kills. Yerkes had 12 digs, three assisted blocks and one service ace while Stittleburg had two block solos and one assisted block. Williams hit at a .583 clip with her seven kills coming with just 12 attempts. She also had a pair of digs and an assisted block.
Sophomore Shannon Slick (Rockton Hononegah HS, Roscoe, Ill.) recorded 44 digs, which is the fifth highest single match total in Augustana history. The school record is 50 set by Rachel Uhrig against North Central on September 18, 2007.
Freshman Katrina Colclasure (Tri-Valley HS, Bloomington, Ill.) led the team in setting assists with 20 and sophomore Kelsey Mikula (Coal City HS, Coal City, Ill.) added 18.
Augustana moved to 6-12 overall and 2-1 in the CCIW. The Vikings started the season 1-8 but have now won five of their last nine matches.