September 28, 2010
2010 Season - First half Central goal hands Vikings a 1-0 loss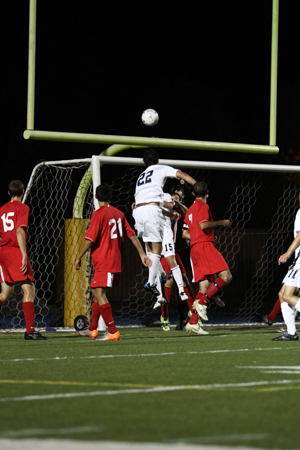 This header by Brett Bleecher was one of 13 Augustana shots on the night, but none found the net and the Vikings fell to Central by a score of 1-0.
ROCK ISLAND, Ill. - In an extremely evenly played match, Central defeated Augustana 1-0 Tuesday night at Ericson Field. Brett McKenzie's goal in the 22nd minute held up as the Dutch improve to 8-1-0 while the Vikings fall to 2-6-1.
McKenzie got free on the right side and beat Augustana goalkeeper Tyler Cowherd (Bettendorf HS, Bettendorf, Iowa) for the game's only goal 21:16 into the match.
The final statistics indicate just how even the contest was. The Dutch outshot Augustana by a narrow 15-13 margin while fouls were even at 12 and corner kicks at four. Cowherd recorded seven saves in the match and his counterpart in goal for Central, Quincy Garner, was credited with eight.
The Vikings' best opportunity came in the 73rd minute when the ball got loose in the mouth of the Central goal. With several Augustana players in the vicinity, Jason Beckus' (Neuqua Valley HS, Naperville, Ill.) finally got a foot on the ball, but his attempt was blocked by the Dutch defense.
The Vikings will try and rebound on Saturday, when they face Carthage in a 3:30 p.m. contest at Ericson Field. That match will be the second half of a women's/men's doubleheader with the Lady Reds and Red Men.