September 28, 2010
2010 Season - Bowman pulls down CCIW honor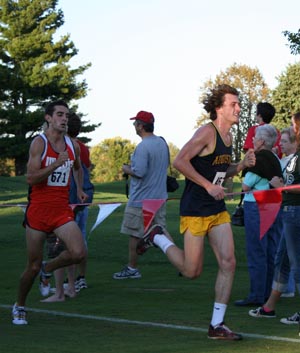 Matt Bowman was named CCIW "Runner of the Week" after his fourth place finish at the Brissman-Lundeen Invitational in Rock Island, Illinois on September 24.
Augustana senior Matt Bowman (Geneva HS, Elburn, Ill.) was selected as the "Runner of the Week" in the College Conference of Illinois & Wisconsin. Bowman's strong performance helped the Vikings finish second at the Brissman-Lundeen Invitational at Augustana College in Rock Island, Illinois on Saturday, September 24. It was an impressive second place finish for head coach Paul Olsen's crew as they beat four nationally ranked teams.
Augustana, ranked sixth in the latest U.S. Track & Field/Cross Country Coaches Association Division III Mideast Regional poll, was one of three teams ranked in the top 10 to compete at the meet. Wisconsin-Stevens Point, ranked fifth, took the team title with 23 points. Augustana finished second with 55 points while Wisconsin-Whitewater, the seventh ranked team in regional poll, placed third with 88 points. Olivet Nazarene took fourth (138), Truman State was fifth (150) and Greenville placed sixth (263).
The field also included a couple of ranked teams in the Division III Central Regional poll. Cornell College, ranked ninth, finished tenth in the team scores with 307 points. Grinnell, the number one ranked team in the Central region, finished 16th with 415 points.
Bowman led the way for Augustana with with a fourth place finish and a time of 25:10 over the 8,000 meter course. The Vikings had ten runners run a time of 26:01 or faster. Tim Thornburg of Wisconsin-Stevens Point won the individual race with a time of 24:58 while teammates Terry Witkowski and Joel Heroux finished second and third with times of 25:00 and 25:10, respectively.
Earlier this year, Bowman finished second overall at the Western Illinois Invitational in a time of 26:11 leading the Vikings to a team victory over a field that included Western Illinois, a Division I school. The next week Bowman was the second Viking runner to cross the line at the Illinois Intercollegiate Championships. He finished in a time of 25:49, which was good for a 26th place finish in a field made up of the top college runners in the state of Illinois.
Augustana, which has only lost to two NCAA Division III schools this year –North Central at the Illinois Intercollegiate meet on September 17 and this past week to Wisconsin-Stevens Point at the Brissman-Lundeen Invitational on September 24 – will have a weekend off before they head to Waverly, Iowa to run at the Wartburg Invite on Saturday, October 9.
Bowman, the son of Gary Bowman of Geneva, Illinois and Linda Bowman of Elburn, Illinois, is an art history major.