September 26, 2010
2010 Season - 11th ranked Vikings stay unbeaten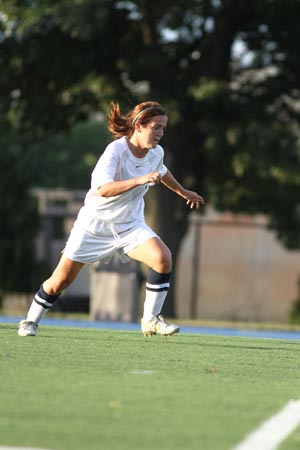 Sophomore Kaitlyn Kinsella assisted on the Vikings' first goal to Allison Frickman as 11th ranked Augustana defeated Simpson 4-0 in non-conference action on Sunday, September 26.
After a sluggish first half, Augustana broke loose with three quick goals in the second period and went on to defeat Simpson 4-0 in non-conference soccer action on Sunday, September 26 in Indianola, Iowa. The Vikings, ranked 11th in the latest NCAA Division III national poll, stay undefeated at 6-0-2 on the season.
The two teams were scoreless until the 37th minute (36:28) when freshman Allison Frickman (Loveland HS, Loveland, Colo.) took a feed from sophomore Kaitlyn Kinsella (Fremd HS, Hoffman Estates, Ill.) and found the back of the net from seven yards out. It was Frickman's second goal of the season.
With the score at 1-0 heading into the second half the Vikings got the offense rolling and responded with three goals in less than 20 minutes. Junior Caitlin Winkelman (St. Charles North HS, St. Charles, Ill.) tallied her second goal of the year at 52:41 with an assist going to senior Megan Mummert (Crawfordsville HS, Crawfordsville, Ind.). Less than a minute later (53:23) it was 3-0 when junior Erin Coulson (Neuqua Valley HS, Naperville, Ill. – now resides in Hermosa Beach, Calif.) picked up a deflection and drilled her fourth goal of the season.
The final score came at 71:33 when sophomore Taylor Moesle (Carl Sandburg HS, Orland Park, Ill.) scored an unassisted goal. It was Moesle's seventh goal of the year.
Augustana held a 22-4 advantage in shots and had 14 shots on goal. Simpson goalkeepers Megan Petersen (four) and Jessica Toyne (six) came up with 10 saves. The Vikings had a 6-0 edge in corner kicks.
With the shutout, the Vikings have now stretched their streak of games without allowing a goal to eight. Junior All-American goalkeeper Kayla Radloff (West Chicago HS, West Chicago, Ill.) worked the first two thirds of the game and exited at the 64:37 mark. She gave way to sophomore Bridget McDermott (Prospect HS, Mt. Prospect, Ill.), who worked the final 25:23.
Simpson fell to 3-6-1 on the year.