September 26, 2010
2010-11 Season - Balance leads Vikings to 2nd at Platteville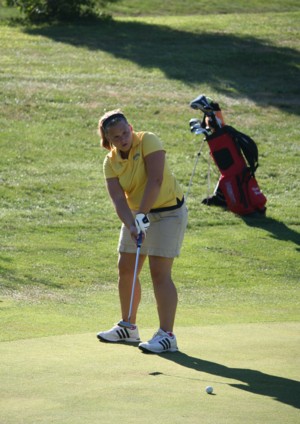 Morgan Wilkinson had Augustana's best round of the weekend with an 89 on Saturday and finished in 10th place overall with a two-round total of 186.
PLATTEVILLE, Wisconsin-Excellent balance was the key for the Augustana women's golf team this weekend. The Viking top five all finished between eighth and 14th place individually as coach Ron Standley's crew captured a tie for second place with the host school at Wisconsin-Platteville's fall Invite. Wisconsin-Stevens Point won the event with a two-round total of 686.
The Vikings started Sunday trailing UW-Platteville by four strokes, but behind rounds of 90 by Megan Vandersee (Sterling HS, Sterling, Ill.) and 91 by Brittany Carr (Lincoln-Way East HS, Frankfort, Ill.), were able to catch and tie the Pioneers with a two-day total of 743 (371-372). Vandersee, a sophomore, took eighth place with a 184 (94-90). Sophomore Morgan Wilkinson (Westmont HS, Westmont, Ill.), who had Augustana's best round of the weekend with an 89 on Saturday, finished 10th with a 186 (89-97). Carr, a junior, finished 12th with a 188 (97-91). Freshman Kelly Farina (Normal West HS, Bloomington, Ill.) (93-96-189) and senior Jessica Berens (Schaumburg HS, Schaumburg, Ill.) (95-95-190) finished 13th and 14th, respectively.
Rounding out the team results were Wisconsin-Oshkosh (377-382-759) in fourth, Clarke (399-391-790) in fifth, a second unit from Augustana (408-417-825) in sixth and UW-Platteville's second unit (429-441-870) in seventh.
UW-Stevens Point's winning performance was led by the top three individual finishers. Mary Welsch (81-83-164) won the event, followed by teammates Danelle Olson (86-82-168) and McKenna Prestigiacom (86-83-169).
Augustana's second unit consisted of freshmen Dena Capitani (Hinsdale Central HS, Hinsdale, Ill.) (97-94-191), Jamie Lawrence (Moline HS, Moline, Ill.) (95-100-195), Kelly Olson (Prairie Ridge HS, Crystal Lake, Ill.) (105-110-215), Megan Alano (Lockport HS, Lockport, Ill.) (115-113-228) and Emily Comperda (Geneva HS, Geneva, Ill.) (111-117-228).
The Vikings are back in action on Sunday, October 3, traveling to Peosta, Iowa to compete in the Clarke Tournament at Thunder Hill Country Club. That event is scheduled to tee off at 11:30 a.m.