September 24, 2010
2010 Season - Men are strong second at Brissman-Lundeen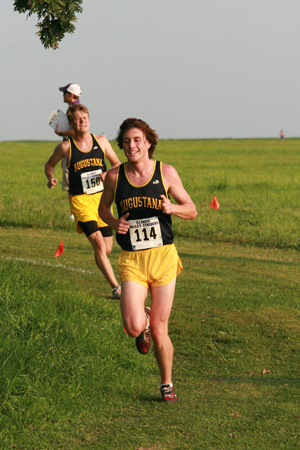 Augustana's Matt Bowman captured a fourth-place finish at Friday's Brissman-Lundeen Invitational in Rock Island. Bowman's strong performance helped the Vikings to a second-place team finish.
ROCK ISLAND, Ill.-A pair of top 10 individual finishes paced the Augustana men's cross country team to a second-place team finish at the Brissman-Lundeen Invitational Friday, September 24 at Saukie Golf Course in Rock Island, Illinois. Matt Bowman (Geneva HS, Elburn, Ill.) was fourth and teammate Mike Tisza (Hersey HS, Prospect Heights, Ill.) eighth as the Vikings' 55 points trailed only Wisconsin-Stevens Point's 23. Stevens Point had the top three individuals including winner Tim Thornburg.
Bowman's time of 25:10.9 was just a tenth of a second out of third place. Tisza posted a time of 25:24.2. The Vikings also grabbed spots 15, 16 and 19 with Billy Wisser (Hersey HS, Mt. Prospect, Ill.), Nathan Smith (Fenton HS, Bensenville, Ill.) and Jonathan Smith (Moline HS, Moline, Ill.) running 25:33.2, 25:33.3 and 25:36.0, respectively.
Thomas Christian (Port Angeles HS, Port Angeles, Wash.) (25:51.9), Brandon Gittelman (Naperville Central HS, Naperville, Ill.) (25:52.7) and Brian Pollastrini (York HS, Elmhurst, Ill.) (25:54.6) finished 25th, 27th and 28th, respectively.
Also in the top 50 for Augustana were Brad Keating (Cary-Grove HS, Cary, Ill.), who ran a 25:57.7, good for 32nd, and Billy TenBusch (Prairie Ridge HS, Cary, Ill.) who's 26:01.4 was 33rd.
Stevens Point's Terry Witkowski was second behind Thornburg's winning 24:58.5 with a clocking of 25:00.8 and another Pointer, Joel Heroux, finished third in 25:10.8, just a tenth of a second ahead of Augustana's Bowman.
After UWSP and the Vikings, the top five was rounded out by Wisconsin-Whitewater with 88 points, Olivet Nazarene with 138 and Truman State with 150.
Prior to the Brissman/Lundeen Invitational, UW-Stevens Point was ranked 17th in the latest NCAA Division III national poll while UW-Whitewater was 14th. Grinnell, which had been ranked 16th in the nation, could manage just a 16th place finish in the strong field on Friday night. Olivet Nazarene is rated 17th nationally in the NAIA while Truman State is ranked eighth in the NCAA Division II South Central Region.
Augustana, which started the 2010 season unranked nationally and just 10th in the Midwest Region, climbed to 28th in the nation and seventh in the region in this week's poll. After their performance on Friday night, the Vikings will likely continue to move up.
Coach Paul Olsen's team is in action next at the Wartburg Invitational on Saturday, October 9 in Waverly, Iowa. That meet is scheduled for 11:30 a.m.