September 24, 2010
2010 Season - Augustana women 11th at Brissman-Lundeen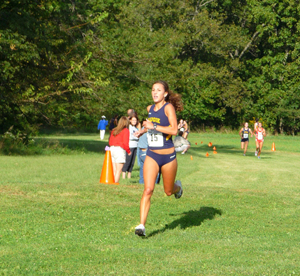 Hannah Hottle recorded Augustana's best individual finish at 36th, helping the Vikings finish 11th as a team at Friday's Brissman-Lundeen Invitational.
ROCK ISLAND, Ill.-Led by a 36th-place finish by Hannah Hottle (Monmouth-Roseville HS, Monmouth, Ill.), the Augustana women's cross country team came away with an 11th-place team finish at Friday's Brissman-Lundeen Invitational at Saukie Golf Course. The Vikings ended up with 275 points. Northern Iowa won the team title with 74 points, well ahead of second-place Wisconsin-Stevens Point's 120. St. Norbert's Jenny Scherer was the individual winner in 21:09.6.
Hottle finished in a time of 23:36.6, ahead of teammate Tara Bistry (Joliet Catholic HS, Shorewood, Ill.), who was 46th with a time of 23:48.2. Sarahbeth Jones (Warren Township HS, Wadsworth, Ill.) ran 24:00.7 for 59th and Theresa Coverick (Stagg HS, Palos Park, Ill.) was 77th in 24:26.0. Emma Grandgeorge (Sycamore HS, Sycamore, Ill.), Annie Heifner (Oregon HS, Oregon, Wis.) and Meaghan Reaney (Lincoln-Way Central HS, New Lenox, Ill.) finished 83rd, 85th and 89th with times of 24:29.3, 24:31.9 and 24:32.9, respectively.
Augustana's Angela Pisani (York HS, Elmhurst, Ill.) and Kristin Sattizahn (Erie HS, Erie, Ill.) also recorded top 100 finishes. Pisani was 91st with a 24:34.2 and Sattizahn was clocked at 24:40 flat for 94th place.
Scherer finished 41 seconds ahead of second-place finisher Dani Dell'orco of Truman State. Simpson's Catie Ellingson was third in 21:55.9.
Rounding out the top ten behind UNI and Stevens Point were Olivet Nazarene with 123 points, Truman State (124), St. Norbert (140), Cornell (214), Grinnell (227), Monmouth (243), Elmhurst (260) and Wisconsin-Whitewater (265).
The next competition for coach Fred Whiteside's Vikings will be the Western Ontario Invitational in London, Ontario on Thursday, October 7 at 5:00 p.m.