September 22, 2010
2010 Season - Augustana falls to Loras 4-1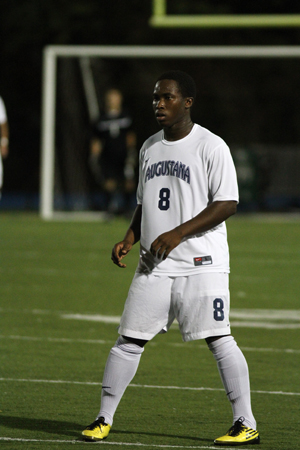 Augustana's Anthony Adeniran scored the Vikings' lone goal in a 4-1 loss to Loras Wednesday.
ROCK ISLAND, Illinois - Loras scored twice in the first 19 minutes of action and went on to post a 4-1 win over Augustana Wednesday night at Ericson Field. Anthony Adeniran (Loyola Jesuit HS, Ogbomoso, Nigeria) scored the lone Viking goal. Loras improves to 4-4, while Augustana falls to 2-5-1 on the year.
The Duhawks' Justin McCord got the scoring started with his second goal of the season in the 16th minute and teammate Miguel Bonilla added his third goal of the year just two-and-a-half minutes later.
Adeniran cut the lead to 2-1 with his second goal of the season 32:58 into the game, but Loras' Chris Comstock scored his first of the season in the 43rd minute to make it 3-1 at the half. Brad Joiner's goal in the 49th minute accounted for the final score. It was his second of the season.
Loras outshot the Vikings 15-9 on the night. The Duhawks also held a 5-1 advantage in corner kicks. Augustana goalkeeper Tyler Cowherd (Bettendorf, HS, Bettendorf, Iowa) played all 90 minutes in goal and was credited with four saves. Sean Fidlow (Carmel Catholic HS, Gurnee, Ill.) was the most active of the Vikings on the attack, getting off six shots, four of which were on goal.
The Vikings will be home again on Tuesday, September 28 at 7:00 p.m. when they'll host the Dutch of Central College.