September 22, 2010
2010 Season - Vikings hand Loras its first loss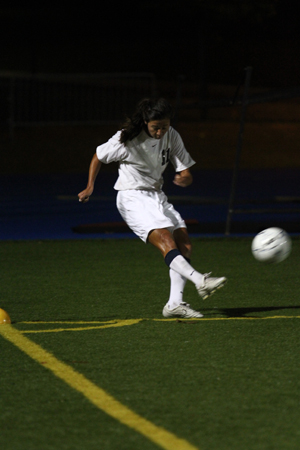 A corner kick by Ashley Higuchi was headed in by Jessica Dodds for the game's only goal as 11th-ranked Augustana defeated 14th-ranked Loras Wednesday night.
ROCK ISLAND, Ill. - Jessica Dodds' (Linn-Mar HS, Marion, Iowa) goal off an Ashley Higuchi (Smoky Hill HS, Aurora, Colo.) corner kick spelled the difference Wednesday evening as Augustana defeated Loras 1-0 at Ericson Field. Dodds' header in the 60th minute allowed the 11th-ranked Vikings to hand the 14th-rated Duhawks their first loss of the season. Augustana is now 5-0-2, while Loras drops to 7-1.
In a physical match that saw four yellow cards handed out, both defenses controlled play in the first half. Each team was able to get off just two shots and only one of the four combined attempts was on goal. Corner kicks were also even at one in the opening 45 minutes.
The offenses picked it up in the second half with Augustana getting off eight shots and Loras seven with five of the Duhawk attempts being on goal. Augustana held a 4-2 edge in corners in the second period as well with the biggest being a perfect Higuchi feed from the left corner at Ericson's west end. Dodds headed it in for her third goal of the season and the Vikings had all the scoring they would need. The assist was Higuchi's third of the year, all coming on corner kicks.
The Augustana defense, led by Mary Pat Holtrop (St. Charles North HS, St. Charles, Ill.), Megan Mummert (Crawfordsville HS, Crawfordsville, Ind.), Margaret Hoscheit (St. Charles East HS, St. Charles, Ill.), Kelly Johnson (Homewood-Flossmoor HS, Homewood, Ill.) and Bridget Shrigley (Wheaton Warrenville South HS, Wheaton, Ill.) as well as goalkeeper Kayla Radloff (West Chicago HS, West Chicago, Ill.), was again outstanding, as Augustana recorded its seventh consecutive shutout of the season. Radloff recorded five saves, all in the second half and extended her scoreless streak in goal to 566 minutes this season.
Augustana is in action next on Sunday, September 26 in Indianola, Iowa, where the Vikings will face Simpson in a 4:00 p.m. contest.