September 22, 2010
2010 Season - Undefeated Vikings ranked 11th in national poll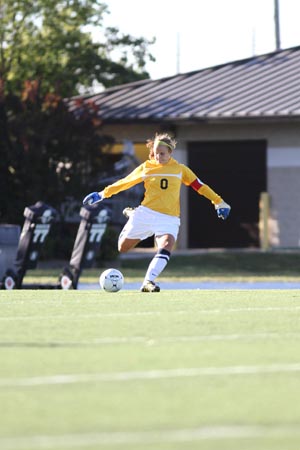 Augustana is currently ranked 11th in NCAA Division III with a 4-0-2 record. Goalkeeper Kayla Radloff and the Vikings have yet to give up a goal this season.
Augustana remains undefeated in women's soccer with a 4-0-2 record but the Vikings have slipped one more notch in the NCAA Division III national ranking for the second consecutive week. After being ninth in the first two polls, Augustana moved to 10 th after a 0-0 tie against Kalamazoo on September 8. Last Saturday, the Vikings played to a 0-0 double overtime tie with 20 th ranked Calvin and as a result, have dropped to 11 th in the national poll.
The road certainly does not get any easier for head coach Scott Mejia and his team. Loras, undefeated at 7-0 and ranked 14 th in the NCAA Division III national poll, will come to Ericson Field this afternoon for a 5:30 p.m. match.
2010 NCAA DIVISION III WOMEN'S SOCCER RANKINGS
Compiled by National Soccer Coaches Association of America *** as of September 21, 2010
| | | | |
| --- | --- | --- | --- |
| RANK | TEAM | PREV. | RECORD |
| 1 | Messiah (PA) | 1 | 5-0-0 |
| 2 | College of New Jersey | 2 | 7-0-0 |
| 3. | Hardin-Simmons | 3 | 4-0-0 |
| 4. (tie) | Illinois Wesleyan | 6 | 7-0-0 |
| 4. (tie) | Otterbein | 5 | 5-0-1 |
| 6. | William Smith | 4 | 6-1-0 |
| 7. | Johns Hopkins | 8 | 6-1-0 |
| 8. | Williams | 7 | 3-1-0 |
| 9. | Wisconsin-Stevens Point | 9 | 7-0-0 |
| 10. | Rowan | 11 | 5-0-1 |
| 11. | AUGUSTANA | 10 | 4-0-2 |
| 12. | Puget Sound | 12 | 6-0-1 |
| 13. | Ithaca | 16 | 5-1-0 |
| 14. | Loras | 23 | 7-0-0 |
| 15. | Calvin | 20 | 6-1-1 |
| 16. | Amherst | 15 | 3-0-1 |
| 17. (tie) | Emory | 17 | 6-0-1 |
| 17. (tie) | Trinity | 19 | 4-1-0 |
| 19. | Concordia-Minnesota | 14 | 5-1-0 |
| 20. | Allegheny | RV | 6-0-0 |