September 22, 2010
2010 Season - Vikings move to seventh in Midwest Regional poll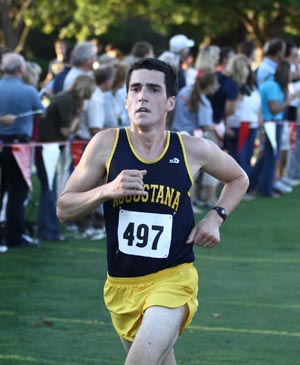 Augustana has moved into seventh place in the NCAA Division III Midwest Regional poll. Sophomore Brian Pollastrini was the team's fourth man in the Illinois Intercollegiate Championship last Friday, helping the Vikings to a fourth place finish in the 32 team field.
Thanks to an impressive fourth place finish in the Illinois Intercollegiate Championships on Friday, September 17 in Normal, Illinois, Augustana has jumped to seventh in the NCAA Midwest Regional rankings. The Vikings were ninth in the pre-season and stayed in that position through the first two meets before moving up to seventh this week.
Last Friday night, at the Illinois State University Golf Course, Augustana had a tremendous outing, finishing fourth among the 32 teams entered in the meet. The University of Illinois won the event with 25 points while North Central, the defending NCAA Division III national champion and the number one ranked team in the nation this season, was second with 51. Illinois-Chicago placed third with 132 and the Vikings took fourth with 151 points. Augustana defeated a total of three NCAA Division I schools and also trounced the University of Chicago, which had been ranked eighth in the NCAA Midwest Region.
Junior Billy Wisser (Hersey HS, Mt. Prospect, Ill.) led the Vikings with a 20 th place finish in a time of 25:40 over the five mile course. Senior Matt Bowman (Geneva HS, Geneva, Ill.) was 26 th with a time of 25:49.
Augustana, which earlier this season won the Western Illinois Invitational with 21 points, will host the Brissman-Lundeen Invitational this Friday, September 24 th at Saukie Golf Course in Rock Island, Illinois. The Vikings are currently ranked 28 th in the NCAA Division III national poll, which is conducted by the U.S. Track & Field and Cross Country Coaches Association (USTFCCCA).
2010 NCAA DIVISION III MIDWEST REGIONAL CROSS COUNTRY POLL
conducted by the U.S. Track & Field and Cross Country Coaches Association (USTFCCCA)
as of 09/22/10
| | | | |
| --- | --- | --- | --- |
| RANK | SCHOOL | CONFERENCE | LAST WEEK |
| 1. | North Central | CCIW | 2 |
| 2. | Washington | UAA | 1 |
| 3. | Wisconsin-Platteville | WIAC | 3 |
| 4. | Wisconsin-La Crosse | WIAC | 4 |
| 5. | Wisconsin-Whitewater | WIAC | 5 |
| 6. | Wisconsin-Stevens Point | WIAC | 6 |
| 7. | AUGUSTANA | CCIW | 9 |
| 8. | Wisconsin-Oshkosh | WIAC | 7 |
| 9. | Chicago | UAA | 8 |
| 10. | Wisconsin-Eau Claire | WIAC | NR |