September 21, 2010
2010 Season - Comeback propels win over Wheaton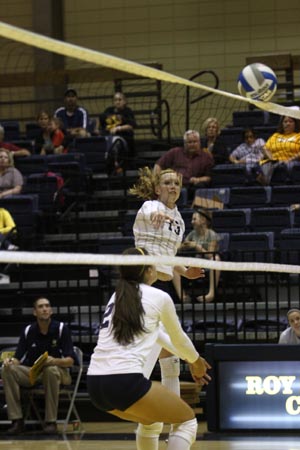 Freshman Kristen Yerkes fires one her 14 kills during the Vikings' stirring 3-2 victory over Wheaton in CCIW volleyball action on Tuesday night in the Carver Center. Yerkes also had 24 digs, two service aces and an assisted block.
Three players ended the match in double figures in kills as Augustana defeated Wheaton 3-2 in College Conference of Illinois & Wisconsin action on Tuesday, September 21 in the Carver Center. After winning the first game 25-21, the Vikings lost games two and three by scores of 25-23 and 25-20 before bouncing back to take the fourth game 25-21. In the deciding fifth game Augustana broke away from an 8-8 deadlock to record a 15-11 win.
Junior Brianna Skeens (Vernon Hills HS, Libertyville, Ill.) paced the Vikings with 17 kills and she also had six total blocks (three solo and three assists). Senior Courtney Jungnickel (Naperville Central HS, Naperville, Ill.) put down 15 kills, had 35 digs, three blocks and one service ace. Freshman Kristen Yerkes (Marist HS, Palos Heights, Ill.) had 14 kills, 24 digs, two service aces and one assisted block. That is a total of 46 kills from the Skeens, Jungnickel, Yerkes trio.
Freshman Stephanie Huber (Sycamore HS, Sycamore, Ill.) picked up eight kills, four digs and two assisted blocks. Senior Jenna Loncar (Marist HS, Chicago, Ill.) added seven kills, four digs, two setting assists, two solo blocks and two assisted blocks.
Sophomore Shannon Slick (Rockton Hononegah HS, Roscoe, Ill.) had a team-high 41 digs. Freshman Katrina Colclasure (Tri-Valley HS, Bloomington, Ill.) had 30 setting assists and sophomore Kelsey Mikula (Coal City HS, Coal City, Ill.) contributed 28.
Augustana has now won two matches in a row and three of its last four and has upped its record to 4-9 overall and 1-1 in the CCIW. Wheaton falls to 6-5 overall and 1-1 in the CCIW.