September 20, 2010
2010 Season - Curt Perschnick wins CCIW defensive honor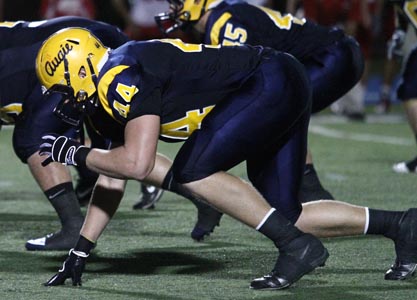 Curt Perschnick has been selected as the CCIW's "Defensive Player of the Week" after his performance in Augustana's 21-7 victory at Adrian on Saturday, September 18.
Augustana senior defensive end Curt Perschnick (Dwight HS, Dwight, Ill.) has been selected as the "Defensive Player of the Week" in the College Conference of Illinois & Wisconsin, it was announced today. Perschnick was outstanding as Augustana defeated Adrian 21-7 in non-conference action on Saturday, September 18 in Adrian, Michigan.
He played a pivotal role as the Viking defense limited the Bulldogs to just 175 yards of total offense, including -4 rushing yards on 31 attempts. Prior to the game, Adrian was averaging 229.5 yards rushing in two games (with one of those games against defending NCAA Division III national champion Wisconsin-Whitewater) and over 5.0 yards per individual attempt.
Perschnick finished the game on Saturday with 10 tackles (five solo and five assists), had one sack, a forced fumble and a fumble recovery. So far this season he has accumulated a total of 21 tackles (nine solos and 12 assists) with two tackles for losses, one quarterback sack, one forced fumble and one fumble recovery.
The Vikings are currently 2-1 and are allowing just 14.0 points and 250.7 yards of total offense (169.3 passing and 81.3 rushing) per game.
The son of Jeff and Coreen Perschnick of Dwight, Illinois, Curt is majoring in biology and pre-nursing.