September 19, 2010
2010-11 Season - Vandersee ties for first at Fighting Bee Classic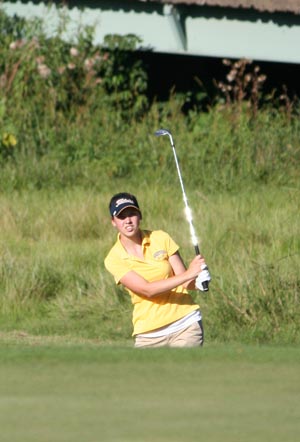 Sophomore Megan Vandersee tied for first place at the St. Ambrose Invitational over the weekend, firing a 163 with rounds of 79 and 84. She helped lead the Vikings to a second place finish in the team standings.
Sophomore Megan Vandersee (Sterling HS, Sterling, Ill.) fired a two day total of 163 and tied for first place at the Fighting Bee Classic, which was held on Saturday, September 18 and Sunday, September 19. The two day tournament was held on two different courses. Saturday's round was played at Glynn's Creek Golf Course at Scott County Park in Eldridge, Iowa while Sunday's final round was contested at Emeis Golf Course in Davenport, Iowa.
Vandersee led after the first day with a round of 79 at Glynn's Creek and she followed that with an 84 at Emeis on Sunday. Her two day total of 163 tied with Anna Kallqvist of Mount Mercy (89-74) and Mackenzie Riedell of Grand View (82-81) for the top individual spot. That forced a match-play playoff and Riedell went out on the first hole. It went until the third hole when Vandersee pushed her drive out of bounds and Kallqvist seized the opportunity and won the hole, and subsequently, the individual title.
St. Francis won the team title with a two day score of 682 (343-346) but Augustana was a close second at 687 (343-344). Grand View took third at 692 (344-348) with Mount Mercy in fourth at 700 (352-348). St. Ambrose and Knox tied for fifth with identical scores of 714. The Bees shot 353-361 while the Prairie Fire went 358-356. Clarke was seventh at 729 (369-360) and William Penn finished eighth with a score of 732 (376-356). Iowa Wesleyan was ninth at 755 (377-378) and Cornell took 10th at 785 (379-406). Monmouth placed 11th at 843 (412-431).
Sophomore Morgan Wilkinson (Westmont HS, Westmont, Ill.) finished in a tie for 12th place with a score of 172 (88-84) but her total did not count for the Vikings' team score. She was playing as an individual even though she had the second best score on the team for the tournament.
Freshman Kelly Farina (Normal West HS, Bloomington, Ill.) tied for 16th place with her score of 176. She shot 87 on the first day and 89 on the second. Also tying for 16th place was senior captain Jessica Berens (Schaumburg HS, Schaumburg, Ill.) with a 176 (89-87). Freshman Jamie Lawrence (Moline HS, Moline, Ill.) had a 179 (88-91) and tied for 24th place. Junior Brittany Carr (Lincoln-Way East HS, Frankfort, Ill.) also tied for 24th with a 179 (95-84).
Augustana will compete in the Wisconsin-Platteville Invitational in Dodgeville, Wisconsin on Saturday, September 25 and Sunday, September 26.