September 19, 2010
2010 Season - Vikings beat Simpson for second straight win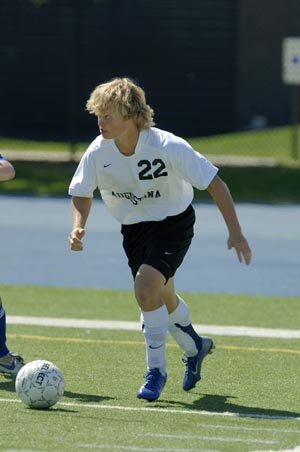 Alex Bennett scored the second goal in Augustana's 2-1 non-conference victory at Simpson on Sunday, September 19.
A pair of first half scores were enough as Augustana defeated Simpson 2-1 in non-conference men's soccer action on Sunday, September 19 in Indianola, Iowa. The Vikings won for the second time in the 2010 season and were crisp from the outset of the game.
The match was less than three minutes old when the Vikings took a 1-0 lead. Junior Kurt Negwer (Lutheran North HS, Florissant, Mo.) scored an unassisted goal when he punched the ball into the net from five yards out. The goal was unassisted and Negwer's first of the season.
After Negwer's goal it took until the half was nearly over before Augustana scored again. This time it was Alex Bennett (Lincoln-Way East HS, Mokena, Ill.) scoring off an assist by Sean Fidlow (Carmel Catholic HS, Gurnee, Ill.). It was Bennett's first goal of the season and Fidlow's second assist.
With the score 2-0 at halftime, Simpson was able to close the gap in the second half when Jeremy Reinert headed the ball past Augustana goalkeeper Tyler Cowherd off a cross from Mark Lahart. That made it 2-1 but the Red Storm was unable to score any more on the afternoon.
Augustana held a 17-12 advantage in shots in the wide-open game with Fidlow getting off seven of those. Simpson goalie Luke Aronow came up with nine saves. The Vikings were especially aggressive during the early going, holding an 11-6 edge in shots during the first half. Cowherd stopped six Simpson shots.
The Vikings have now won two straight matches and are 2-4-1 on the year after going winless in their first five contests. Simpson is 2-4-0. Augustana will host Loras on Wednesday, September 22 at Ericson Field with the match scheduled to begin at 8:00 p.m.