September 18, 2010
2010 Season - Battle of ranked teams ends in scoreless tie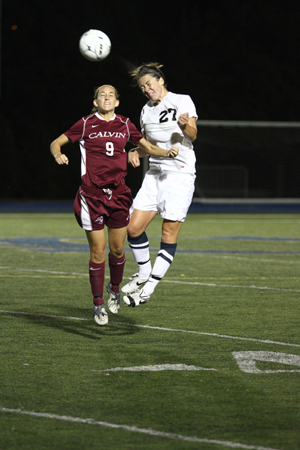 Caitlin Winkelman and the Vikings battled Calvin to a 0-0 tie Saturday night at Ericson Field.
ROCK ISLAND, Ill. - 10th-ranked Augustana was unable to exact revenge in a meeting with 20th-ranked Calvin Saturday night at Ericson Field. The teams battled to a scoreless tie in a rematch of last year's Sweet Sixteen NCAA tournament game won by the Knights. Augustana is now 4-0-2 on the year while Calvin goes to 6-1-1.
In a game when scoring opportunities were rare, Augustana put together the biggest threats of the evening. The best scoring chance in regulation came in the fifty-fourth minute when Augustana's Eric Coulson (Naperville Neuqua Valley HS, Hermosa Beach, Cal.) got free in the box and blasted a point blank shot that was saved by Knights' keeper Ashton Hearn.
Each team was credited with six shots in regulation, with five of the Vikings' and four of the Knights' being on goal.
The action picked up in overtime, with Calvin outshooting Augustana 3-1 in the first period and the Vikings turning the tables and holding a 4-0 edge in shots in the second overtime. Augustana's best chance came in the 105th minute, when it was awarded a free kick following a Knight foul. However, Hearn again came up big, moving to her right to deflect Caitlin Winkelman's (St. Charles North HS, St. Charles, Ill.) blast from 22 yards out. On the ensuing corner kick by Ashley Higuchi (Smoky Hill HS, Aurora, Colo.), Winkelman had another opportunity, but her header sailed wide.
The Viking defense was again outstanding, holding the Knights to just four shots on goal and recording its sixth consecutive shutout to start the season. Viking keeper Kayla Radloff (West Chicago HS, West Chicago, Ill.) was credited with four saves and has now played 476 minutes in goal this year without being scored upon.
Winkelman got off four of the Vikings' 11 shots and Higuchi three.
The Vikings host Loras on Wednesday, September 22 at 5:00 p.m. as part of a women's/men's doubleheader at Ericson Field.