September 18, 2010
2010 Season - Defense, running game key road win at Adrian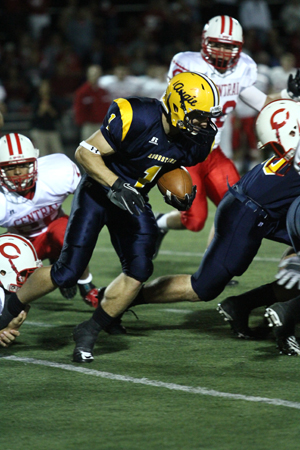 Freshman running back Alex Hembrey rushed for 108 yards in Augustana's 21-7 win at Adrian Saturday.
ADRIAN, Michigan-A stout defensive effort and the return of its running game keyed a road win for the Augustana football team Saturday. The Viking defense allowed just 175 total yards-including a negative four rushing-and the ground attack churned out 192 yards in a 21-7 win over Adrian.
Turnovers played a key role in the first half. While the Bulldogs were unable to take advantage of Augustana's three first-half miscues, the Vikings converted the first two of three Adrian turnovers into touchdowns.
After the Augustana defense forced a Bulldog three-and-out on the game's first possession, the Vikings drove from their own 20 to the Adrian 29 before coughing up the football. Quarterback David Lee (Springfield HS, Springfield, Ill.) had a 25-yard scramble and completed all three of his pass attempts on the drive.
With 3:30 left in the first quarter, Augustana's John Mago (Cary-Grove HS, Cary, Ill.) forced a fumble by Bulldog running back Jared Edwards which Curt Perschnick (Dwight HS, Dwight, Ill.) recovered at Adrian's 48-yard line. It took the Vikings just five plays to cover the 48 yards and take a 7-0 lead. Lee connected with Kyle Hundman (Bloomington Central Catholic HS, Bloomington, Ill) for 23 yards on the first play of the drive and A.J. Hoger (Cary-Grove HS, Cary, Ill.) finished it off with a 12-yard touchdown run.
Augustana's second score was set up when freshman linebacker Erik Westerberg (York HS, Elmhurst, Ill.) picked off a Mike McGee pass at the Adrian 44 on the first play of the second quarter. Seven plays later Robert Wood (Rockford Boylan HS, Loves Park, Ill.) took a Lee screen pass and scored from 15 yards out. Arnie Fitzwater's (Waterford Union HS, Waterford, Wis.) point after made it 14-0, Augustana.
The Viking defense came up big late in the first half. After Chris Cook picked off a Lee pass and returned it to the Augustana 38, the Bulldogs drove to the one-yard line where they had a first and goal. On first down, Mago dropped Jeremy Southworth for a one-yard loss and Perschnick and Brandon Holl (Batavia HS, North Aurora, Ill.) followed with back-to-back quarterback sacks of eight yards each. Logan Mitseff's 35-yard field goal attempt with 1:33 remaining in the half hooked left.
The Bulldogs turned the tables on Augustana to get on the board in the third quarter. Taking advantage of a botched quick kick attempt by the Vikings, Adrian took just one play to score from the Augustana 28. McGee, who alternates between quarterback and receiver with Justin Hemm, connected with Hemm on the touchdown pass. Mitseff's point after cut the Augustana lead to 14-7 with just under three minutes left in the third quarter.
The Viking offense responded with its best drive of the day, going 57 yards in eight plays-all on the ground-to re-take a two touchdown lead. Wood's one-yard touchdown plunge on the second play of the fourth quarter finished off the drive. Freshman Alex Hembrey (Cary-Grove HS, Cary, Ill.) carried three times for 44 yards.
Augustana went without a pass attempt over the game's final twenty minutes, letting its running game chew up clock, while its defense put the clamps on the Bulldog offense.
Seeing his first extensive action of the season, Hembrey turned in a fine game. He carried 20 times for 108 yards and also averaged 39.0 yards on two kickoff returns with a long of 53 yards. Wood added 54 yards on the ground. After a pair of 300-yard passing games to start the season, Lee attempted just 16 passes Saturday, completing nine for 100 yards. His touchdown pass to Wood was his seventh of the season, while his two interceptions were the first he's thrown this year. Hundman was his top target with three catches for 31 yards.
Defensively, Brandon Holl led the way with 12 tackles and Perschnick added 10. The Vikings totaled three sacks and eight tackles for loss in the contest. In addition, Matt Glawe (Wheaton Warrenville South HS, Winfield, Ill.) recorded his second interception of the season.
After a week off, Augustana opens CCIW play on Saturday October 2 against Millikin in Decatur, Illinois. Kickoff is scheduled for 1:00 p.m.