September 17, 2010
2010 Season - Vikings place eighth at Illinois Intercollegiates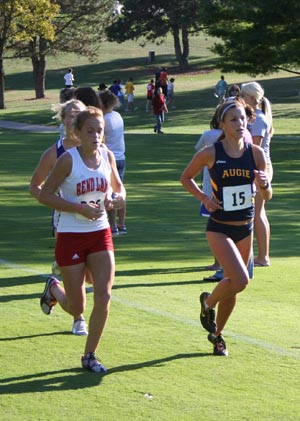 Senior Hannah Hottle led the Vikings to an eighth place finish in the college division of the Illinois Intercollegiate Championships on Friday, September 17 at Illinois State University's Golf Course in Normal, Illinois.
Facing stiff competition, the Augustana women's cross country team placed eighth in the college division at the Illinois Intercollegiate Championship on Friday, September 17. The meet was held at the Illinois State University Golf Course in Normal, Illinois.
The Vikings scored 219 points and were eighth among 25 teams in the college division. The University of Chicago won the event with 39 points while North Central took second with 92, just edging out Olivet Nazarene, which scored 93 points in third. Illinois Wesleyan was fourth with 109 and St. Francis placed fifth with 180. St. Xavier (197) and Trinity Christian (213) finished ahead of Augustana and Elmhurst (261) and Illinois Central (302) rounded out the top 10.
In the overall standings, which included the university institutions, the Vikings were 13th with 393 points. Northwestern, out of the Big 10, won the meet with 35 points while Illinois State was second with 66 and Illinois was third with 91.
Senior Hannah Hottle (Monmouth-Roseville HS, Monmouth, Ill.) led the way for Fred Whiteside's team, taking 30th in the college division with a time of 19:48 over the 5,000 meter course. Sophomore Sarahbeth Jones (Warren Township HS, Wadsworth, Ill.) finished 39th in 19:58. Sophomore Theresa Coverick (Stagg HS, Palos Park, Ill.) was 57th in 20:17 while sophomore Tara Bistry (Joliet Catholic HS, Shorewood, Ill.) took 63rd in 20:26. Freshman Emma Gandgeorge (Sycamore HS, Sycamore, Ill.) was the fifth finisher for the Vikings, taking 69th in 20:35.
Sophomore Angela Pisani (York HS, Elmhurst, Ill.) placed 79th in 20:47 and freshman Kristen Whiteside (Zion-Benton HS, Winthrop Harbor, Ill.) rounded out the Augustana top seven with a time of 20:52 that placed her 81st.
Not placing in the team standings, but still competing in the varsity race were six other Vikings. Sophomore Alyssa Tworek (Carmel Catholic HS, Hawthorn Woods, Ill.) was 92nd in 21:10 and senior Brittany Prazak (Naperville North HS, Naperville, Ill.) was 100th in 21:23. Freshman Britton Dallas (International School of Indiana, Indianapolis, Ind.) finished 106th in 21:30. Sophomore Annie Heifner (Oregon HS, Oregon, Wis.) took 113th in 21:40 and senior Meghan Reaney (Lincoln-Way Central HS, New Lenox, Ill.) was 121st in 21:47. Junior Melissa Lehpamer (Plainfield South HS, Plainfield, Ill.) ran 21:54 and was 124th.
Augustana will host the Brissman/Lundeen Invitational on Friday, September 24 at Saukie Golf Course in Rock Island, Illinois. The first race is set for 5:00 p.m.