Augustana alums honored by Mayo PT school
September  17, 2010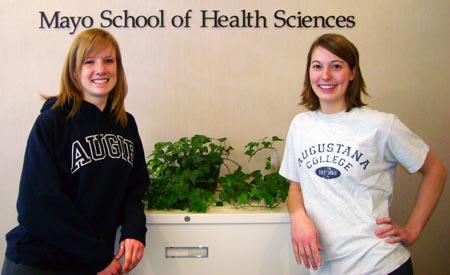 Beth Cloud, left, and Meghan McMillan, both class of 2007, earned doctorates of physical therapy from the Mayo School of Health Sciences this spring.
Meghan (Voiland) McMillan and Beth Cloud weren't intimidated when they enlisted at the Mayo School of Health Sciences after graduating from Augustana College in 2007.
They were prepared.
And when they received their doctorates of physical therapy this spring, they also were bestowed honors that distinguished them from their classmates. McMillan received the Outstanding Clinician Award and Cloud the Erik J. Aasen Award, which annually recognizes a person with an especially humanitarian spirit.
McMillan, a biology major who was an NCAA Division III national champion in the pole vault and an academic All-American, now practices at Capitol Physical Therapy in Verona, Wisconsin. She is married to Augustana graduate Ted McMillan '09, also a former national champ and academic All-American. In her job, she treats mostly people with muscle and joint issues who are recovering from injuries.
"My experiences at Augustana and at Mayo prepared me for everything I've seen," McMillan said. "But I feel like I wouldn't have even been able to go to Mayo — or understood what I needed to there — without the preparation I had and the classes I had at Augie. Not only did we have the preparation in the biology classes where we felt like we knew the anatomy and kinesiology a lot better than the other Mayo students did, but we also had a better understanding of the big picture. Rather than just memorizing a list of muscles and bones, we were able to apply that knowledge in a clinical setting."
Cloud, a psychology and biology major, was one of the top trumpet players on campus during her time at Augustana. She has decided to stay at Mayo in pursuit of a PhD. Her degree will be in clinical and translational sciences, which bridges the gap between research and clinical practice. Her dual major and liberal arts education set her on that path.
"The psychology background gave me a perspective on human behavior and working with individuals that I wouldn't have gotten through studying just life sciences," Cloud said. "But the two balanced each other really well and provided a background that is important for a physical therapist, because you're not only figuring out what's wrong with someone, you have to figure out how to explain it to them and then how to help them through whatever it is."
Cloud's love of research was cultivated at Augustana, and she hopes to one day join the faculty at a school of physical therapy. Both she and McMillan said the highlight of their undergraduate experience was their time in the human cadaver lab, which proved invaluable at Mayo.
"You learn to appreciate things through pictures, and you get kind of a feel for it, but it's almost like you're discovering it yourself when you dissect," Cloud said. "As soon as you see those pieces come together and as you dissect layer by layer, you see the relationships within the human body, and it becomes a lot more meaningful. Having that picture in your head when you're working with a patient and trying to understand how their muscles are working is really powerful. To have that opportunity as an undergraduate student was unique. My classmates at Mayo had a more limited perspective."
"I feel like I wouldn't have even been able to go to Mayo — or understood what I needed to there — without the preparation I had and the classes I had at Augie." — Meghan McMillan '07