CEC getting into gear with open house, new staff
Eric Rowell, Johnna Adam join center's leadership
September  17, 2010
Augustana's newly created Community Engagement Center (CEC) has taken some important steps toward living out its bold vision by hosting a community open house on Sept. 11 and appointing two key leaders on Sept. 17.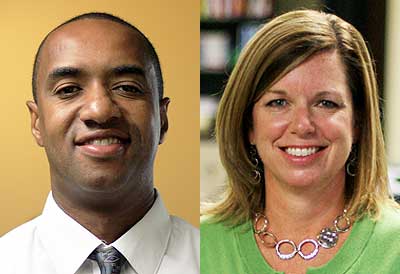 Eric Rowell will serve as the CEC's director of career development, and Johnna Adam will be the director of employer relations and internship services.
The goal of the CEC is to serve as the connecting point between Augustana and the community. By pushing students to reach out to their community, the CEC plays an integral role in turning critical thinkers into conscientious citizens.
The CEC, located in Sorensen Hall, officially opened in August. It consists of seven distinct offices — the Center for Vocational Reflection, Internships, Entrepreneurial Center, Career Development, Service Learning, Volunteer Programming, and International and Off-Campus Programs. Each office is set up to serve both students and community members.
Students can seek out meaningful opportunities outside of Augustana, including service learning projects, internships, international programs and jobs. The community can use the CEC to find qualified interns and job candidates, recruit volunteers for a service project, access student and faculty expertise, and even use meeting or classroom space at no charge.
Eric Rowell and Johnna Adam, the newest members of the CEC, are excited to share their passion for Augustana in their new roles.
"My vision is to help students find their initial path in life," said Rowell, director of career development. "We want to help students figure out what they enjoy, what they're good at and what they'd be successful doing when they leave Augustana."
Rowell is a 1993 Augustana business administration graduate who most recently worked as a development officer in the Office of Advancement. He is currently seeking his masters' degree from St. Ambrose University.
Adam, the director of employer relations and internship services, is a Quad Cities native who returned in 2001 after working at PricewaterhouseCooper LLP in several roles at their Boston and London offices. She has contributed to several Quad Cities organizations over the last several years, including Junior Board of Rock Island, American Heart Association and Niabi Zoo.
Adam is anxious to put her connections in the community into action for students.
"I want to grow the internship program by finding the opportunities for students to apply knowledge they've learned in the classroom in a real-world setting," she said.
Katie Lundell, a junior social sciences and English major who attended the open house, may also be one of Adam's first visitors. She was familiar with some offices in the CEC because of her 2009 international study experience in West Africa. However, she anticipates using even more of the CEC resources as she begins thinking about her life after graduation.
"In the future I'm obviously going to need a job, and I don't really know which direction I want to go yet. I'm hoping I can come here for some advice," Lundell said.
"I had never heard of the CEC before," admitted Nicola Trumball, a junior creative writing major and art minor. "But I definitely think it will be useful. I feel like my major is give me a lot of broad options, but I'm still trying to find the right (career) niche."
George and Zene Henning, who are Augustana alumni, retired staff members and now neighbors, are excited about the opportunities the CEC will provide in Rock Island.
"My wife and I have had a lot of student neighbors over the years, and we find they are always very nice and community-oriented," said George. "It has to work two ways — if local neighbors reach out to the Augustana community, the students will come back and help the community."
Laura Mahn, the CEC's volunteer and off-campus coordinator, is glad to see people are curious about the new center and hopes they will continue to explore the valuable opportunities the CEC can offer them in the future.
"The CEC is a place where the learning that happens at Augustana and the needs of the community are integrated. We want everyone to know that this facility is available to them," she said.
Sam Schlouch
Senior Communication Director
(309) 794-7833
samschlouch@augustana.edu