Hot on the trail of low-temperature biology
Professor's hatchling turtle research may lead to advances in cryogenic storage of human tissues and organs
September  17, 2010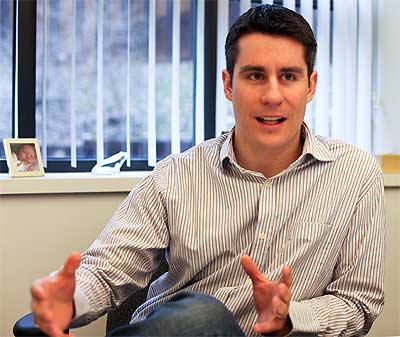 Dr. Tim Muir, assistant professor of biology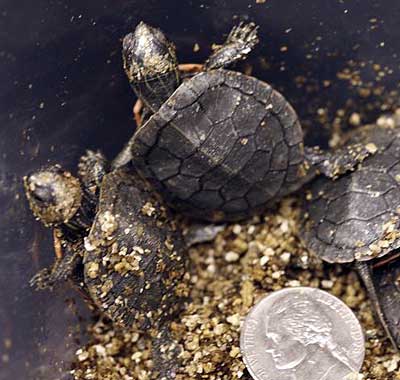 Turtle hatchlings may be small (shown next to a nickel for a size comparison) but they're tough. (Augustana Photo Bureau/John Cairns)
Biology's Dr. Tim Muir simply couldn't stay out of the Slough last spring. There he was, waist-high in the ripe waters, every day for six weeks, beginning in late May.
The signs -- "Turtle research in progress" -- provided a clue. Muir posted those to keep curious passers-by from disturbing his 50-foot trapping nets in the water near the Tredway Library. They also explained his seeming affection for daily dips in the Slough.
As an ecological physiologist, Muir studies how ectothermic, or "cold-blooded," animals respond to and survive extreme environmental stresses.
In particular, he is interested in how reptiles, amphibians and various invertebrates cope with low body temperatures. Unlike mammals and birds, these animals do not generate enough metabolic heat to remain warm during the winter so they must be able to function physiologically at low body temperatures. Many of these species, including hatchling painted turtles, are freeze-tolerant, meaning they have the ability to endure the formation of ice within their bodies.
Hatchling painted turtles are considered champions of the cold. When frozen, they can survive temperatures as low as -4°C (25°F), but how do hatchling painted turtles survive even colder temperatures? The painted turtles' alternative cold-hardiness strategy is to avoid freezing by supercooling. Supercooling is when body fluids cool below the freezing point without solidifying or crystallizing. The supercooling capacity of hatchling painted turtles apparently is the best of any vertebrate, as these turtles may cool to -20°C (-4°F) before spontaneously freezing.
For his efforts in the Slough last spring, Muir captured six pregnant Western painted turtles -- not as many as he would have liked (maybe the brand of sardines he purchased as bait wasn't to the turtles' liking). From those six turtles, however, he obtained 64 eggs and successfully hatched them in the lab this summer. (Video 1: How do you know if a turtle has eggs?)
During graduate school, Muir worked with an estimated 3,000 turtle eggs and published papers on his findings in science journals. His current research, with the help of biology majors Curt Perschnick '11 and Manisha Kumar '13, will continue his investigation of the mechanisms of low-temperature injury, whether it be from freezing or chilling in the absence of ice formation, to cells, organs and whole organisms.
In short, he is looking for insight into why some animals can survive very low body temperatures and others cannot.
"In the lab, we will artificially expose them to lower and lower temperatures in an attempt to mimic what's happening outside," Muir explains.
In nature, the hatchlings live huddled together in a nest under two to four inches of earth during their first winter. Muir simulates this environment with vermiculite, a material that gardeners often add to their soil to improve aeration and enhance drainage.
"The hatchlings don't eat, drink, urinate or defecate until April so they are probably one of the easiest animals to take care of," Muir says. To survive, each hatchling will feed off a large, internalized yolk sac. (Video 2: Do turtles have belly buttons?)
From an applied science standpoint, this type of research may lead to advances in cryostorage of human tissues and organs, Muir says.
"Presently, the medical community is not able to freeze single human organs and have them viable for transplant after thawing," he explains. "These hatchling turtles -- and a host of other freeze-tolerant animals -- can recover from having every organ in their bodies frozen simultaneously. Uncovering the biochemical and physiological mechanisms underlying that remarkable ability will undoubtedly inform new methods in medical cryopreservation."
Contact Augustana Magazine editor Debbie Blaylock by email; by phone at (309) 794-8979; or by mail at Augustana College, 639 38th St., Rock Island, Ill., 61201.