September 17, 2010
2010 Season - Clash of ranked teams on Saturday night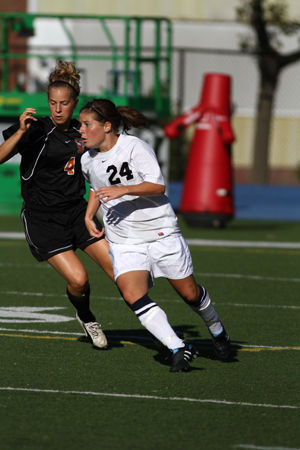 Junior Erin Coulson, show here in a match against Kalamazoo on September 8, and her teammates will take on 20th ranked Calvin on Saturday night at Ericson Field. The match between 10th ranked Augustana and the number 20 Knights will start at 7:00 p.m.
After being ranked ninth in the first two polls of the 2010 season, the Augustana Vikings dropped a notch this week after playing to a 0-0 double overtime tie against Kalamazoo on Wednesday, September 8. Head coach Scott Mejia's team is now 10 th heading into an early season battle with 20 th ranked Calvin. The two ranked teams will battle on Saturday, September 18 at 7:00 p.m. at Ericson Field.
Augustana is currently 4-0-1 on the season and the Vikings have yet to be scored upon. After the tie with Kalamazoo, Mejia's team was impressive in back-to-back wins over Wisconsin-LaCrosse (3-0 on Saturday, September 11) and Milwaukee School of Engineering (6-0 on Sunday, September 12).
Calvin is currently 6-1 and the contest on Saturday night will be a rematch of last year's "Sweet Sixteen" game that ended up in the Knights' favor by a 2-1 margin.
Augustana is led in scoring this season by Taylor Moesle (Carl Sandburg HS, Orland Park, Ill.) . Moesle has six goals and one assist for a total of 13 points. Erin Coulson (Neuqua Valley HS, Naperville, Ill. – now resides in Hermosa Beach, Calif.) is next with three goals and one assist for seven points. Junior goalkeeper Kayla Radloff (West Chicago HS, West Chicago, Ill.) has yet to give up a goal and has recorded 10 saves in 366 minutes of play.
2010 NCAA DIVISION III WOMEN'S SOCCER RANKINGS
Compiled by National Soccer Coaches Association of America *** as of September 14, 2010
| | | | |
| --- | --- | --- | --- |
| RANK | TEAM | PREV. | RECORD |
| 1 | Messiah (PA) | 1 | 4-0-0 |
| 2 | College of New Jersey | 2 | 5-0-0 |
| 3. | Hardin-Simmons | 3 | 2-0-0 |
| 4. | William Smith | 6 | 4-0-0 |
| 5. | Otterbein | 7 | 4-0-0 |
| 6. | Illinois Wesleyan | 15 | 5-0-0 |
| 7. | Williams (MA) | 5 | 5-0-0 |
| 8. | Johns Hopkins | 8 | 4-1-0 |
| 9. | Wisconsin-Stevens Point | 16 | 4-0-0 |
| 10. | AUGUSTANA | 9 | 4-0-1 |
| 11. | Rowan | 12 | 4-0-1 |
| 12. | Puget Sound | 13 | 3-0-1 |
| 13. | Washington | 3 | 3-2-0 |
| 14. | Concordia-Moorhead | 10 | 3-1-0 |
| 15. | Amherst | 20 | 1-0-1 |
| 16. | Ithaca | RV | 3-1-0 |
| 17. | Emory | 21 | 4-0-1 |
| 18. | Centre | NR | 4-0-0 |
| 19. | Trinity | RV | 3-1-0 |
| 20. | Calvin | RV | 6-1-0 |