September 16, 2010
2010-11 Season - Split squad defeats Dubuque & Knox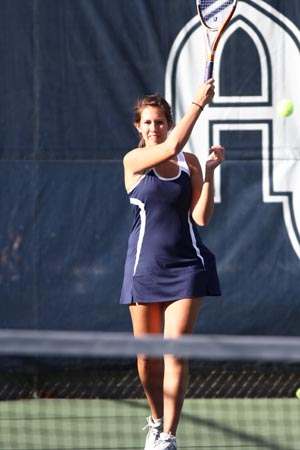 Alyssa Quitschau teamed with Brittany Reece for an 8-0 win at No. 2 doubles and also clinched a victory for the Vikings with a 6-3, 6-2 victory at No. 5 singles against her opponent from Knox. Augustana split its squad and defeated Knox 7-2 and Dubuque 8-1, improving to 7-2 overall.
DUBUQUE, Iowa & ROCK ISLAND, Ill. – The Augustana women's tennis team split its squad and won a pair of matches on Thursday, September 16, defeating Dubuque 8-1 on the road and beating Knox 7-2 in Rock Island, Illinois. With the two victories, the Vikings improve to 7-2 while remaining 4-1 in the College Conference of Illinois & Wisconsin.
The Blue & Gold jumped out to a 3-0 lead on the road after a doubles sweep against Dubuque. Senior Tricia Sapio (Barrington HS, Hoffman Estates, Ill.) and freshman Caitee Margenthaler (Moline HS, Moline, Ill.) tallied the first point of the day with an (8-2) win over Nicole Schmaltz and Sarah Morgan at No. 2 doubles. Senior Justine Stukas (Downers Grove North HS, Downers Grove, Ill.) and junior Julie Wach (Marist HS, Chicago, Ill.) picked up an (8-5) decision over Lindsay Bonnell and Lauren Clausen at No. 3 to make the score 2-0. Freshman Kim Sawyer (Batavia HS, Batavia, Ill.) and sophomore Meghan Wethington (Geneseo HS, Geneseo, Ill.) edged out Emma Bridget and Kristina McWethy (8-6) at No. 1 doubles to complete the sweep.
Freshman Mariah Bardo (Sterling HS, Sterling, Ill.) made it 4-0 with a (6-0, 6-0) victory at No. 5 singles against Aoi Karino. Sawyer clinched the match with a (6-2, 6-0) decision against Bonnell at No. 1. Freshman Katie Scharnagle (St. Francis College Prep, Lisle, Ill.) pulled away for a (6-3, 6-0) win over McWethy at No. 4 while Wethington cruised to a (6-1, 6-0) decision at No. 3, defeating Clausen. Sapio earned a (6-4, 6-3) win against Bridgett at No. 2. Margenthaler lost a hard fought battle (6-4, 6-3) to Schmaltz at No. 6.
Augustana also took an early lead against Knox, grabbing a 2-1 advantage heading into singles play. Freshmen Samantha Tonn (Moline HS, Moline, Ill.) and Emily Kaczmarek (Glenbard South HS, Lombard, Ill.) gutted out an (8-6) victory against Dana Pierce and Megan Funk at No. 1. Juniors Brittany Reece (Naperville Neuqua Valley HS, Naperville, Ill.) and Alyssa Quitschau (Jacobs HS, Algonquin, Ill.) raced to an (8-0) win over Molly Stein and Jordan Kuban at No. 2. Freshmen Carrie Keahl (Prairie Ridge HS, Crystal Lake, Ill.) and Callie Winter (Downers Grove South HS, Downers Grove, Ill.) lost (8-3) to Rachel Clark and Emily Tyl at No. 3.
Knox tied up the match with a win at No. 6, where sophomore Allie Bierhaus (Bloomington South HS, Bloomington, Ind.) dropped a (6-3, 6-1) decision to Tyl, but the Vikings would win the final five matches in straight sets to secure the victory. Sophomore Krista Panko (Geneva HS, Geneva, Ill.) rolled to a (6-0, 6-1) win at No. 3, beating Stein. Freshmen Shannen McNamara (Battle Mountain HS, Avon, Colo.) tallied the fourth point of the match with a (6-3, 6-0) victory against Pierce at No. 1. Quitschau clinched the victory, knocking off Clark (6-3, 6-2) at No. 5. Tonn and Kaczmarek won the final two matches to account for the 7-2 score. Tonn defeated Funk (6-3, 6-3) at No. 2 while Kaczmarek won (6-1, 6-3).
The Vikings return to the courts on Sunday, September 19 when the team will host Simpson and Monmouth.
09/16/10 – Augustana 8, Dubuque 1
| | |
| --- | --- |
| POS | RESULT |
| Singles | |
| 1. | Kim Sawyer (AUGIE) def. Lindsay Bonnell (DBQWT) 6-2, 6-0 |
| 2. | Tricia Sapio (AUGIE) def. Emma Bridgett (DBQWT) 6-4, 6-3 |
| 3. | Meghan Wethington (AUGIE) def. Lauren Clausen (DBQWT) 6-1, 6-0 |
| 4. | Katie Scharnagle (AUGIE) def. Kristina McWethy (DBQWT) 6-3, 6-0 |
| 5. | Mariah Bardo (AUGIE) def. Aoi Karino (DBQWT) 6-0, 6-0 |
| 6. | Nicole Schmaltz (DBQWT) def. Caitee Margenthaler (AUGIE) 6-4, 6-3 |
| Doubles | |
| 1. | Kim Sawyer/Meghan Wethington (AUGIE) def. Emma Bridgett/Kristina McWethy (DBQWT) 8-6 |
| 2. | Tricia Sapio/Caitee Margenthaler (AUGIE) def. Nicole Schmaltz/Sarah Morgan (DBQWT) 8-2 |
| 3. | Justine Stukas/Julie Wach (AUGIE) def. Lindsay Bonnell/Lauren Clausen (DBQWT) 8-5 |
09/16/10 – Augustana 7, Knox 2
| | |
| --- | --- |
| POS | RESULT |
| Singles | |
| 1. | Shannen McNamara (AUGIE) def. Dana Pierce (KNOX) 6-3, 6-0 |
| 2. | Samantha Tonn (AUGIE) def. Megan Funk (KNOX) 6-3, 6-3 |
| 3. | Krista Panko (AUGIE) def. Molly Stein (KNOX) 6-0, 6-1 |
| 4. | Emily Kaczmarek (AUGIE) def. Jordan Kuban (KNOX) 6-1, 6-3 |
| 5. | Alyssa Quitschau (AUGIE) def. Rachel Clark (KNOX) 6-3, 6-2 |
| 6. | Emily Tyl (KNOX) def. Allie Bierhaus (AUGIE) 6-3, 6-1 |
| Doubles | |
| 1. | Samantha Tonn/Emily Kaczmarek (AUGIE) def. Megan Funk/Dana Pierce (KNOX) 8-6 |
| 2. | Brittany Reece/Alyssa Quitschau (AUGIE) def. Molly Stein/Jordan Kuban (KNOX) 8-0 |
| 3. | Emily Tyl/Rachel Clark (KNOX) def. Carrie Keahl/Callie Winter (AUGIE) 8-3 |