September 16, 2010
2010 Season - Sweep of Ashford nets first home victory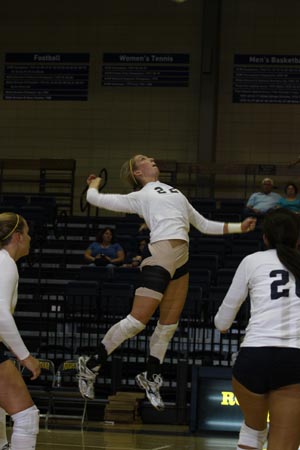 Senior Jenna Loncar put down seven kills as Augustana won for the third time in 2010 with a 3-0 sweep of an Ashford club that was 12-3 coming into the match.
A gritty effort paid off for the Vikings in a 3-0 sweep of Ashford in non-conference volleyball action on Thursday night in the Carver Center. It was the first home victory of the season for first year head coach Jamie Walters.
It was not an easy sweep, however, as Augustana won a hard-fought first game by a score of 32-30 after trailing 4-0 in the early going. The Vikings sprinted out to a big lead (16-4) in game two and eventually won by a count of 25-18. Game three was tight the whole way and Ashford led 21-17 before Augustana scored eight of the last nine points to take the set 25-22 and the match.
Senior Courtney Jungnickel (Naperville Central HS, Naperville, Ill.) ripped off 11 kills and added 23 digs, one service ace and four blocks (one solo and three assists). Freshman Kristen Yerkes (Marist HS, Palos Heights, Ill.) added 10 kills with 10 digs, a service ace and an assisted block. Junior Brianna Skeens (Vernon Hills HS, Libertyville, Ill.) picked up eight kills and four digs. Senior Jenna Loncar (Marist HS, Chicago, Ill.) contributed seven kills, three assisted blocks, one dig and one setting assist.
Freshman Katrina Colclasure (Tri-Valley HS, Bloomington, Ill.) led the team in setting assists with 18 while sophomore Kelsey Mikula (Coal City HS, Coal City, Ill.) had 15 assists. Colclasure and Mikula each had five digs. Sophomore Shannon Slick (Rockton Hononegah HS, Roscoe, Ill.) led the team in digs with 28.
The Vikings hit at a .200 clip with 40 kills and 15 hitting errors in 125 total attempts.
With the victory Augustana is now 3-9 while Ashford falls to 12-4 overall. The Vikings will be in action again on Tuesday, September 21 at home against Wheaton with the match starting at 7:30 p.m.