September 15, 2010
2010 Season - Second half scoring burst keys first win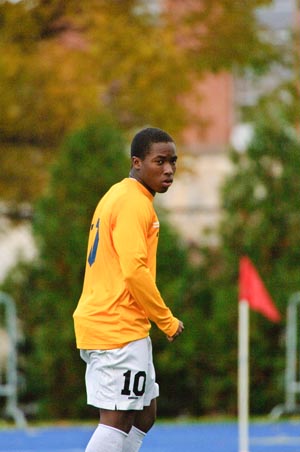 Anthony Adeniran scored the Vikings' second goal of the match with Cornell. Augustana scored three second half goals and came away with a 3-0 victory.
After battling to a scoreless tie through the first half, Augustana exploded for three second half goals en route to a 3-0 victory against Cornell on Wednesday, September 15 in Mount Vernon, Iowa. It was the first victory of the season for the Vikings who had suffered four defeats and a tie in their first five matches.
Prior to the win against the Rams, head coach Brenton Joseph had watched his team lose two overtime contests, tie one in overtime and fall 2-1 on a goal in the 88th minute and drop another by the score of 1-0. The Cornell game was nearing the 60 minute mark and it appeared as if that scenario could play itself out again.
Instead, sophomore John McSpadden (Geneva HS, Geneva, Ill.) broke the ice with an unassisted goal, his second of the season, at the 58:17 mark. That opened the floodgates as sophomore Anthony Adeniran (Loyola Jesuit HS, Ogbomoso, Nigeria) followed that with his first goal of the campaign at 69:49. He was assisted by Sean Fidlow (Carmel Catholic HS, Gurnee, Ill.) to make it 2-0. Freshman Matt Shipon (South Elgin HS, Elgin, Ill.) finished the scoring with the first goal of his collegiate career. It came at 77:03 and was assisted by junior Cory DeGrave (Fremd HS, Palatine, Ill.).
Augustana held a 17-5 advantage in shots attempted and a 5-1 edge in corner kicks. In the first half the Vikings were up 14-2 in shots attempted but could not find the back of the nets. Cornell goalkeeper Ben Alleva was making things difficult and would finish the match with 14 saves.
Freshman Tyler Cowherd (Bettendorf HS, Bettendorf, Iowa) had four saves for Augustana and played nearly 86 minutes before being replaced by fellow first year student Steven Zahrobsky (Downers Grove South HS, Woodridge, Ill.). Zahrobsky had one save in his limited time.
The Vikings are now 1-4-1 on the year while Cornell falls to 0-5-1. Augustana will travel to Indianola, Iowa on Sunday, September 19 for a 2:00 p.m. match with Simpson. That match will be the sixth consecutive road game for the Vikings with the next home match scheduled for September 22 against Loras at 8:00 p.m.