September 14, 2010
2010 Season - Vikings fall at 13th ranked Carthage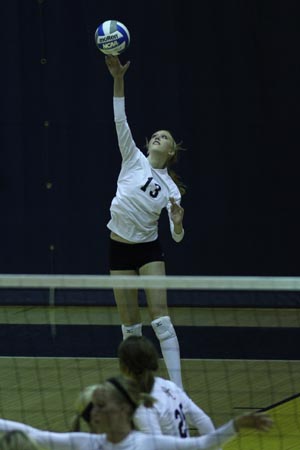 Freshman Kristen Yerkes had seven kills in the Vikings' loss at 13th ranked Carthage on Tuesday, September 14.
A travel-weary Vikings' volleyball team dropped the College Conference of Illinois & Wisconsin opener to 13th ranked Carthage on Tuesday, September 14 in Kenosha, Wisconsin. Augustana lost in three games to the Lady Reds by scores of 25-13, 25-15, 15-16. The match against Carthage was the fifth in the last four days for first year head coach Jamie Walters' team.
Over the past weekend, Augustana competed in the California Lutheran Tournament in Thousand Oaks, California, going 1-3 and losing to three teams ranked in the top 35 of the latest NCAA Division III national poll. The loss to 13th ranked Carthage marks the fifth ranked opponent that the Vikings have faced so far this season, which is only 11 matches old.
Senior Courtney Jungnickel (Naperville Central HS, Naperville, Ill.) and freshman Kristen Yerkes (Marist HS, Palos Heights, Ill.) led Augustana in kills with seven apiece. Jungnickel had eight digs while Yerkes had a dig and an assisted block. Jungnickel, who is averaging a team high 2.82 kills per game, continues her march on three career school records. She now has 1,175 kills and is 311 shy of Callyn Dittmar's school record of 1,486 set from 2000-03. She has 175 service aces and is nine away from Mandy Murray's (1999-02) school record of 184. Jungnickel is also in the hunt for Dittmar's school record of digs. The mark is 1,650 and she has 1,294.
Sophomore Kelsey Mikula (Coal City HS, Coal City, Ill.) and freshman Katrina Colclasure (Tri-Valley HS, Bloomington, Ill.) each had 12 assists and sophomore Shannon Slick (Rockton Hononegah HS, Roscoe, Ill.) had 11 digs.