September 14, 2010
2010 Season - Moesle named CCIW Player of the Week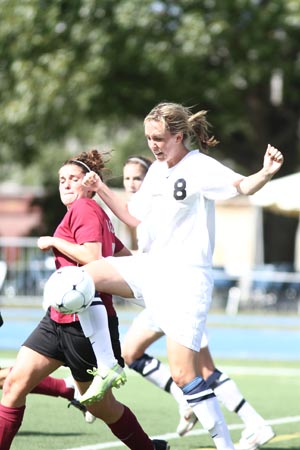 Taylor Moesle was named "Offensive Player of the Week" in the CCIW last week after scoring three goals as the Vikings went 2-0-1.
Augustana sophomore midfielder Taylor Moesle (Carl Sandburg HS, Orland Park, Ill.) has been selected as the "Offensive Player of the Week" in the College Conference of Illinois & Wisconsin for the week ending September 12. Moesle played a big role in helping the Vikings go 2-0-1 for the week.
Moesle scored three goals last week as the nationally ranked Vikings (ninth in NCAA Division III) moved their record to 4-0-1 overall. The Vikings beat Wisconsin-La Crosse 3-0 on Saturday, September 11 with Moesle scoring the first goal for the Vikings just 8:16 into the game. She added a second goal against La-Crosse in the 55th minute of the contest. Moesle scored one more goal as the Vikings tallied a 6-0 win over Milwaukee School of Engineering on September 12. With her three goals last week, Moesle's season total stands at six to go along with one assist. These numbers are good enough to lead Augustana in scoring with 13 points.
An elementary education major, Moesle is the daughter of Michael and Lynn Moesle of Orland Park, Illinois. Moesle recorded nine goals and five assists a season ago, ending the season tied for the team lead in points with 23. She now has 15 goals and six assists in her brief career.