September 14, 2010
2010 Season - Coverick named CCIW "Runner of the Week"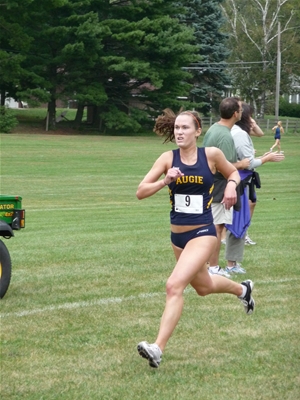 Augustana sophomore Theresa Coverick has been selected as the "Runner of the Week" in the College Conference of Illinois & Wisconsin for her performance at the NIU Invitational on Saturday, September 11.
Augustana sophomore Theresa Coverick (Stagg HS, Palos Park, Ill.) has been named the College Conference of Illinois and Wisconsin's (CCIW) Cross Country Runner of the Week following a standout performance last Saturday, September 11 at the Northern Illinois Invitational. Coverick received the award after placing 22nd overall, covering the hilly 5,000 meter course in 20:17.68.
Coverick is concentrating solely on cross country this year after splitting time between soccer and cross country last year, and it appears that she made the correct decision. She led the Vikings to an impressive fourth place finish against a field of stiff competition that included traditional Division 1 powerhouse University of Wisconsin. Coach Fred Whiteside's harriers totaled 98 points, trailing third place Northern Illinois University by 31, and beating fifth place Caroll's 113 point total by a considerable margin. It was the Vikings first meet since their season opening win at the Western Illinois Invitational.
Coverick was named co-Most Valuable Freshman a year ago, and is majoring in pre-physical therapy. She is the daughter of Robert and Eileen Coverick of Palos Park, Illinois.