September 11, 2010
2010 Season - Vikings tie Fontbonne 1-1 on Fidlow goal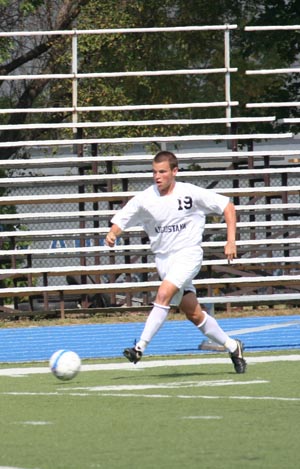 Sean Fidlow scored the lone Augustana goal of the contest as the Vikings tied Fontbonne 1-1.
Sean Fidlow's (Carmel Catholic HS, Gurnee, Ill.) goal in the first half allowed Augustana to forge a 1-1 double overtime tie over Fontbonne on Saturday, September 11 in non-conference soccer action. The match, which was played in St. Louis, was evenly contested and the scoring came within a 20 second span nearly the midpoint of the first half.
Zach Will of Fontbonne scored at the 19:10 mark with assists going to Josh Schultz and Justin Williams. Fidlow wasted no time evening the game as he scored just 20 second later at 19:30 to make it 1-1. His goal, which was his second of the season, was unassisted.
Fontbonne held a slight advantage in shots attempted at 11-9 but the Vikings had an 8-6 edge in corner kicks. Tyler Cowherd (Bettendorf HS, Bettendorf, Iowa) recorded four saves.
Fontbonne moved to 1-2-1 with the tie while Augustana is now 0-3-1.