September 12, 2010
2010 Season - Vikings shut out MSOE 6-0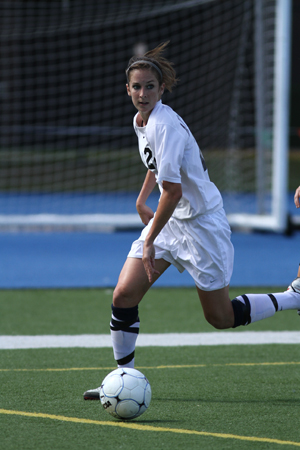 Jessica Dodds scored the first of six Viking goals Sunday afternoon.
ROCK ISLAND, Ill. - Augustana jumped on the Milwaukee School of Engineering early Sunday afternoon, scoring its first goal less than a minute into the game and adding another three minutes later. With a defense that has yet to be scored upon this season, those two goals held up and the Vikings added four more scores, cruising to a 6-0 win. Augustana improves to 4-0-1 on the year while MSOE falls to 2-3.
Jessica Dodds' (Linn-Mar HS, Marion, Iowa) second goal of the season just 58 seconds into the game gave Augustana a 1-0 lead. Taylor Moesle (Sandburg HS, Orland Park, Illinois) followed that up by lofting a shot over Raider goalkeeper Emma Lumpke and into the net for her sixth goal of the season. That gave the Vikings a 2-0 lead just 4:03 into the match.
Sophomore Kaitlyn Kinsella (Fremd HS, Hoffman Estates, Ill.) and freshman Allison Frickman (Loveland HS, Loveland, Colo.) came off the bench and added first half goals as well. Kinsella scored when she lofted her second goal of the season in from the right side in the 35th minute and Frickman scored her first collegiate goal five minutes later on an assist from Paige Knippenberg (University HS, Normal, Ill.).
Two more freshmen finished out the scoring in the second half. Alexandra Coon (Naperville Central HS, Naperville, Ill.) buried a free kick from 35 yards out in the 70th minute and Brittney Bush (Oswego HS, Oswego, Ill) scored the final Viking goal in the 84th minute. Coon's goal was her second of the season while Bush's was the first of her career.
The Augustana defense was again outstanding. Spearheaded by Megan Mummert (Crawfordsville HS, Crawfordsville, Ind.), Kelly Johnson (Homewood-Flossmoor HS, Homewood, Ill.) and Margaret Hoscheit (St. Charles East HS, St. Charles, Ill.), it allowed the Raiders just two shots the entire game. For the season, the Vikings have not allowed a goal and have let opponents get off just 17 shots in five games.
Next up for Augustana is a big home date on Saturday, September 18 against Calvin. The Knights defeated the Vikings 2-1 last year in the NCAA tournament Sweet 16, ending the most successful season in Augustana history. Game time Saturday is scheduled for 7:00 p.m.