September 11, 2010
2010-11 Season - Ever improving Lawrence leads way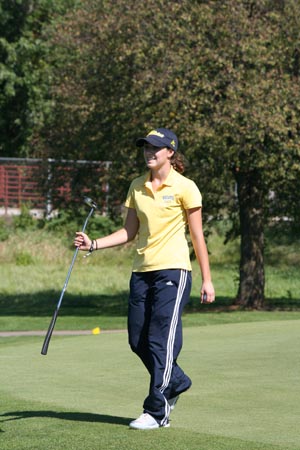 Freshman Jamie Lawrence shot an 85 at the Fighting Scots Invitational on Saturday, September 11 to lead the Vikings to a fifth place finish in the 14-team meet.
Freshman Jamie Lawrence (Moline HS, Moline, Ill.) has been a student at Augustana for three weeks but she has proven to be a quick study to the world of collegiate golf. When the season began she was not among the players chosen to score in the varsity meet but with each outing she has gotten better and better. On Saturday, September 11 she was the Vikings top finisher at the Fighting Scots Invitational, which was hosted by Monmouth at Gibson Woods Golf Course.
Lawrence shot an 85 and tied for 12th in the individual standings as Augustana placed fifth in the 14 team field. Just two days earlier Lawrence had recorded a collegiate best round of 90 at the Augustana Invitational at Emeis Golf Course in Davenport, Iowa. The individual winner at the Fighting Scots Invitational was Alyssa Gaudio of North Central who recorded a three over par 75.
North Central won the team title with a round of 335, nipping Grinnell (336) for the first place trophy by just one stroke. Carthage was third with 339 while Wheaton took fourth at 342. Augustana and Robert Morris tied for fifth with identical scores of 351. Mount Mercy took seventh at 358 and Clarke and Edgewood tied for eighth with scores of 367. Knox (369), Millikin (371), Elmhurst (374), Illinois College (403) and Monmouth (417) completed the 14 team field.
Senor captain Jessica Berens (Schaumburg HS, Schaumburg, Ill.) also broke into the individual top 20 with a round of 87 that tied her for 20th place. Freshman Kelly Farina (Normal West HS, Bloomington, Ill.) shot 88, as did sophomore Megan Vandersee (Sterling HS, Sterling, Ill.). That earned Farina and Vandersee part of a six-way tie for 23rd place. Junior Brittany Carr (Lincoln-Way East HS, Frankfort, Ill.) recorded a 91 and sophomore Morgan Wilkinson (Westmont HS, Westmont, Ill.) had a 95. Freshman Dena Capitani (Hinsdale Central HS, Hinsdale, Ill.) recorded an even 100.
After competing four times last week, head coach Ron Standley's Vikings will not be in action again until the St. Ambrose Invitational on Saturday, September 18 at Scott County Park in Bettendorf, Iowa.