September 12, 2010
2010 Season - Coverick leads Vikings to fourth at NIU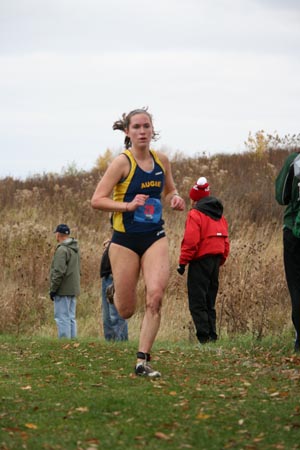 Theresa Coverick led Augustana to a fourth place finish in a 10 team field at the Northern Illinois Invitational on Saturday, September 11.
Competing against a field that included a pair of NCAA Division I opponents, the Augustana women's cross country team placed fourth in the Northern Illinois Open on Saturday, September 11 in DeKalb, Illinois. Led by sophomore Theresa Coverick (Stagg HS, Palos Park, Ill.), the Vikings scored 98 points in the 10 team field.
The University of Wisconsin ran away with the team title by scoring just 23 points as Badger runners grabbed 11 of the top 13 places. St. Norbert finished second with 62 and Northern Illinois took third with 67. Augustana's fourth place total of 98 was 15 points better than Carroll's fifth place total (113) while Lincoln was sixth (214). Carl Sandburg (222), Elgin (232), Chicago State (272) and Beloit (275) rounded out the field.
Coverick, who last fall split her time between the Vikings' soccer and cross country teams, is concentrating solely on running this season and her concentration on just one sport is starting to show. She was the top finisher on Saturday, covering the 5,000 meter course in 20:17.68. That earned her a 22nd place finish overall although she was 14th in terms of team scoring once the non-scoring runners were pulled out.
Sophomore Tara Bistry (Joliet Catholic HS, Shorewood, Ill.), the top finisher for the Vikings in the season opening WIU Invitational on Friday, September 3, was the number two runner on Saturday. She was 26th (17th) with a time of 20:25.47. Senior Hannah Hottle (Monmouth-Roseville HS, Monmouth, Ill.) finished 29th (18th) in 20:30.64. Sophomore Sarahbeth Jones (Warren Township HS, Wadsworth, Ill.) finished 33rd (22nd) in 20:45.67 and sophomore Annie Heifner (Oregon HS, Oregon, Wis.) took 39th (27th) in 21:02.67. The split between Coverick and Heifner was less than a minute (45 seconds).
Senior Meaghan Reaney (Lincoln-Way Central HS, New Lenox, Ill.), who is coming an injury plagued season, broke into the top seven with a 41st (29th) place finish in a time of 21:06.45. Freshman Emma Grandgeorge (Sycamore HS, Sycamore, Ill.) rounded out Augustana's top seven with a 44th (32nd) place finish and a time of 21:12.87.
A total of 38 runners finished the race for the Vikings, who will next be in action on Friday, September 17 at the Illinois Intercollegiate Championship in Normal, Illinois.