September 11, 2010
2010-11 Season - Vikings rally to defeat Carthage 5-4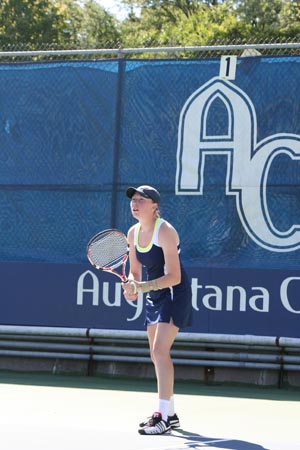 Shannen McNamara won her No. 1 singles match by a score of 6-3, 6-2 against Carthage to help Augustana earn a 5-4 victory. McNamara is 6-2 in singles action for the Vikings, who are 5-2 overall this season.
ROCK ISLAND, Ill. – The Augustana women's tennis team earned its second 5-4 victory of the season, edging Carthage 5-4 on Saturday, September 11 in Rock Island, Illinois. The Vikings trailed 2-1 after doubles, but rallied to win the top four singles matches to secure the comeback win. The Blue & Gold improve to 5-2 overall and 4-1 in the College Conference of Illinois & Wisconsin. The victory is Augustana's first against Carthage since 1997, breaking a 12 match losing streak against the Lady Reds.
Sophomore Krista Panko (Geneva HS, Geneva, Ill.) and junior Brittany Reece (Naperville Neuqua Valley HS, Naperville, Ill.) got Augustana on the board first with an (8-1) victory at No. 3 doubles over Kelsey Bowen and Holly Weber. Carthage would go on to tie the match with a close win at No. 1 doubles and then take a 2-1 lead after rallying to win at No. 2 doubles.
Trailing 2-1, senior Tricia Sapio (Barrington HS, Hoffman Estates, Ill.) put together a strong showing at No. 4 singles, winning (6-1, 6-3) to even the match at 2-2. After dropping a match at No. 6 singles to fall behind 3-2, the Vikings won in straight sets at the top three singles positions to earn the victory. Freshman Shannen McNamara (Battle Mountain HS, Avon, Colo.) leveled the match at 3-3 with a (6-3, 6-2) win over Hollis McPeek at No. 1. Freshman Kim Sawyer (Batavia HS, Batavia, Ill.) won (6-0, 6-3) against Bari Reynolds at No. 2 to put the Blue & Gold in front to stay. Freshman Samantha Tonn (Moline HS, Moline, Ill.) was a (7-5, 6-1) winner at No. 3, tallying the decisive point for Augustana. Panko lost (3-6, 6-4, (10-7)) in a hard fought battle at No. 5 in the final match of the day.
The Vikings are back in action on Thursday, September 16. Augustana will split its squad, sending some members of the team on the road to face Dubuque while the rest of the squad will stay home to host Knox.
09/11/10 – Augustana 5, Carthage 4
| | |
| --- | --- |
| POS | RESULT |
| Singles | |
| 1. | Shannen McNamara (AUGIE) def. Hollis McPeek (CARTHAGE) 6-3, 6-2 |
| 2. | Kim Sawyer (AUGIE) def. Bari Reynolds (CARTHAGE) 6-0, 6-3 |
| 3. | Samantha Tonn (AUGIE) def. Kristina Naidicz (CARTHAGE) 7-5, 6-1 |
| 4. | Tricia Sapio (AUGIE) def. Kelsey Bowen (CARTHAGE) 6-1, 6-3 |
| 5. | Amanda Bizub (CARTHAGE) def. Krista Panko (AUGIE) 3-6, 6-4, (10-7) |
| 6. | Holly Weber (CARTHAGE) def. Sheri Hendricks (AUGIE) 7-6 (4), 6-0 |
| Doubles | |
| 1. | Hollis McPeek/Kristina Naidicz (CARTHAGE) def. Shannen McNamara/Kim Sawyer (AUGIE) 8-6 |
| 2. | Bari Reynolds/Amanda Bizub (CARTHAGE) def. Tricia Sapio/Samantha Tonn (AUGIE) 9-7 |
| 3. | Krista Panko/Brittany Reece (AUGIE) def. Kelsey Bowen/Holly Weber (CARTHAGE) 8-1 |