September 9, 2010
2010-11 Season - Vandersee leads Vikings at Augie Fall Classic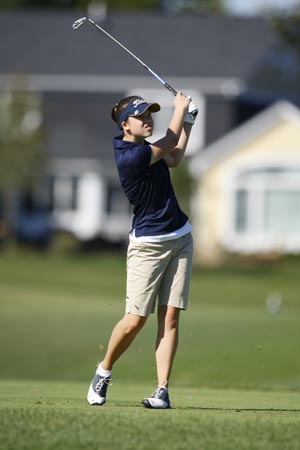 Megan Vandersee led the Vikings with a round of 85 at the Augie Fall Classic. She tied for 11th place in the 77 player field.
DAVENPORT, Iowa – Sophomore Megan Vandersee (Sterling HS, Sterling, Ill.) fired an 85 to tie for 11th and lead the Vikings at the Augie Fall Classic on Thursday, September 9 at the Emeis Golf Course in Davenport, Iowa. The Augustana women's golf team had three squads competing at the 14 team event.
Augustana's "A" team finished sixth with a score of 352. The "B" team placed 10th with a total of 394. The "C" squad rounded out the field in 14th with a tally of 448. North Central won the team title with a score of 314. Wheaton and Ashford tied for second at 332, with Robert Morris (346) edging the "B" squad from UW-Whitewater (347) by a stroke for fourth place. Carthage was seventh at 355, followed by St. Ambrose "B" and Judson, who both fired a 369. Ashford "B" (397), Monmouth (407), and Dubuque (411), were 11th, 12th, and 13th respectively.
Junior Brittany Carr (Lincoln-Way East HS, Frankfort, Ill.) was second for the Blue & Gold and tied for 22nd overall with an 88. Senior Jessica Berens (Schaumburg HS, Schaumburg, Ill.) was right on her heels, shooting an 89 finishing 27th. Freshman Jamie Lawrence (Moline HS, Moline, Ill.) came in right behind Berens in a tie for 28th place with a round of 90. Freshman Kelly Farina (Normal West HS, Bloomington, Ill.) and sophomore Morgan Wilkinson (Westmont HS, Westmont, Ill.) also competed with Augustana's top group. Farina tied for 33rd with a 92, and Wilkinson shot a 94 to finish in a tie for 42nd.
Freshman Dena Capitani (Hinsdale Central HS, Hinsdale, Ill.) led Augustana's second squad with a 90, tying Lawrence and two other golfers for the 28th position. Freshman Kelly Olson (Prairie Ridge HS, Crystal Lake, Ill.) fired a 98, finishing in a tie for 52nd. Freshman Katelyn Lazar (Williamsville HS, Sherman, Ill.) finished the day with a 100 and tied for 55th place. Senior Courtney Vandewiele (Alleman HS, Rock Island, Ill.) completed the scoring for this team with a 106, tying for 60th.
Freshmen Emily Comperda (Geneva HS, Geneva, Ill.), Jenna Schneider (Rockford Lutheran HS, Rockford, Ill.), Elizabeth Hughes (Wheaton Warrenville South HS, Wheaton, Ill.), Julie Cantor (Rushville-Industry HS, Rushville, Ill.) comprised the "C" team for the Blue & Gold. Comperda and Schneider each shot a 106 to tie for 60th. Hughes completed the course with a score of 117 to tie for 72nd. Canter tied for 74th with a 119.
Augustana wraps up a busy week at the Monmouth Invitational on Saturday, September 11.
Story written by Assistant Sports Information Director Adam Strand