September 8, 2010
2010 Season - Vikings fall to St. Ambrose in home opener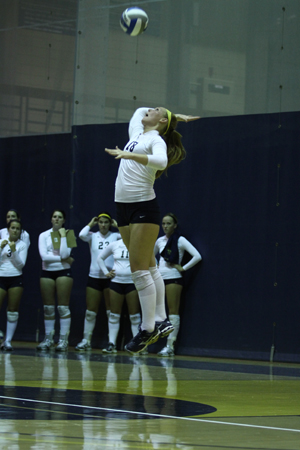 Freshman Paige Buchanan recorded seven kills and 10 digs, but the Vikings fell to St. Ambrose by scores of 25-13, 25-18 and 25-20.
In the 2010 home opener, St. Ambrose had too much for Augustana and dealt the Vikings a 3-0 (25-13; 25-18; 25-20) defeat on Wednesday, September 8 in the Carver Center. With the win the Queen Bees moved to an impressive 8-1 on the year while the Vikings fell to 1-5.
Senior Courtney Jungnickel (Naperville Central HS, Naperville, Ill.) and freshman Paige Buchanan (Millard North HS, Omaha, Neb.) shared the offensive load for Augustana, each recording seven kills. Jungnickel also led the team in digs with 16. Junior Brianna Skeens (Vernon Hills HS, Libertyville, Ill.) and Kristen Yerkes (Marist HS, Palos Heights, Ill.) had five kills apiece.
Sophomore Kelsey Mikula (Coal City HS, Coal City, Ill.) led the team in setting assists with 12 while freshman Katrina Colclasure (Tri-Valley HS, Bloomington, Ill.) added 10. Shannon Slick (Rockton Hononegah HS, Roscoe, Ill.) had 11 digs.