September 8, 2010
2010 Season - Augustana, Kalamazoo battle to scoreless tie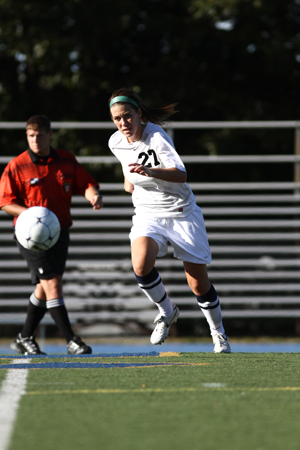 Caitlin Winkelman got off 10 shots, including seven on goal, but unfortunately none found the net as the Vikings settled for a 0-0 with Kalamazoo.
ROCK ISLAND, Ill. - 110 minutes of soccer weren't enough to decide a winner Wednesday afternoon at Ericson Field as Augustana and the visiting Hornets of Kalamazoo fought to a 0-0 tie. Both teams are now 2-0-1 on the young season.
Kalamazoo outshot Augustana 5-4 and had a 4-2 edge in corner kicks during the first half. Four of the Hornet shots were on goal with Vikings goalkeeper Kayla Radloff (West Chicago HS, West Chicago, Ill.) recording saves. Her opposite number in net for Kalamazoo, Courtney McCoy, was credited with two first-half saves.
It was a different story in the second half as Augustana pressured McCoy and the Hornets for the entire 45 minutes. The Vikings got off 18 shots, including eight by midfielder Caitlin Winkelman (St. Charles North HS, St. Charles, Ill.) alone. However, McCoy was up to the task, making nine saves in the period to keep the score even through the end regulation despite the fact that the Hornets didn't get off a shot in the second half.
The Vikings continued to control play in the first overtime, but the Kalamazoo defense blocked a Kaitlyn Kinsella (Fremd HS, Hoffman Estates, Ill.) shot and McCoy made saves on a Winkelman shot as well as an Ashley Higuchi (Smoky Hill HS, Aurora, Colo.) header to keep Augustana off the board.
After not getting a shot off in over 72 minutes of play, the Hornets pressured the Vikings by getting off three in the second overtime. Radloff stopped an attempt by Kalamazoo's Jackie Short-who has scored all three of the Hornets' goals this year-just over a minute into the period. Both of Kalamzoo's other attempts sailed high. The Vikings' Jenna Doyle (Regis Jesuit HS, Parker, Colo.) was credited with the only Augustana shot of the second overtime, missing wide right.
Winkelman fired 10 shots in the game, seven of which were on goal. Three of Higuchi's four shots were on goal as well. Defensively, the Vikings did a good job on Short, who got off only two shots in the match.
McCoy, who only had to make three saves in Kalamazoo's first two wins, turned back 13 Viking shots in this one and has yet to allow a goal in over 270 minutes in net this year. Radloff, who is also unscored upon during 2010, was credited with five saves for Augustana.