September 7, 2010
2010-11 Season - Carr & Farina tie for sixth at Cardinal Classic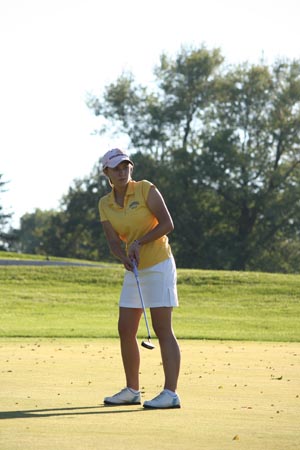 Kelly Farina continued her strong start to the season by tallying a 91 at the North Central Cardinal Classic. She tied teammate Brittany Carr for sixth place in the 69 player field.
NAPERVILLE, Ill. – The Augustana women's golf team brought two squads to the North Central Cardinal Classic on Tuesday, September 7 and came away with some strong results at the Cress Creek Country Club in Naperville, Illinois. Junior Brittany Carr (Lincoln-Way East HS, Frankfort, Ill.) and freshman Kelly Farina (Normal West HS, Bloomington, Ill.) led the way, each tallying a 91 and tying for sixth place.
North Central won its own tournament with a team total of 361, finishing 11 strokes ahead of Carthage (372). Lewis University (374) edged St. Francis (375) for third place by one stroke. Augustana's "A" team took fifth with a total of 379. The "B" team for the Vikings placed eighth with a 428, finishing behind Elmhurst (405), and Carthage "B" (409). Aurora (460) and Benedictine (472) rounded out the field.
Sophomore Megan Vandersee (Sterling HS, Sterling, Ill.) followed up Carr and Farina with a solid performance of her own, tying for 13th with a score of 95. Sophomore Morgan Wilkinson (Westmont HS, Westmont, Ill.) completed the scoring for the "A" team with a 102. She finished 34th overall.
Senior Jessica Berens (Schaumburg HS, Schaumburg, Ill.) and freshman Dena Capitani (Hinsdale Central HS, Hinsdale, Ill.) also competed with Augustana's "A" squad. Berens tied for 40th with a 105, and Capitani finished in a tie for 51st with a 113.
Freshman Jamie Lawrence (Moline HS, Moline, Ill.) turned in an impressive outing, leading the "B" team for the Blue & Gold with a 99. She tied for 26th place. Freshmen Katelyn Lazar (Williamsville HS, Sherman, Ill.), Megan Alano (Lockport HS, Lockport, Ill.), and Kelly Olson (Prairie Ridge HS, Crystal Lake, Ill.) also scored for Augustana's second team. Lazar finished tied for 37th place (104), Alano was 48th overall (109), and Olson took 56th (115). Freshman Elizabeth Hughes (Wheaton Warrenville South HS, Wheaton, Ill.) shot a 131 and finished 63rd to round out the day for the Vikings.
Augustana continues a busy week at the Augie Fall Classic on Thursday, September 9. The Vikings will also compete in the Monmouth Invitational on Saturday, September 11.
Story written by Assistant Sports Information Director Adam Strand