September 4, 2010
2010-11 Season - Carr leads Vikings at Mt. Mercy Invite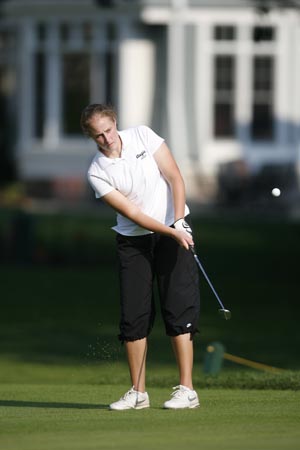 Brittany Carr led the Vikings with a 10th place finish at the Mt. Mercy Invitational. Augustana finished third at the event.
MARION, Iowa – The Augustana women's golf team continued its strong start to the season with a third place finish at the Mt. Mercy Invitational on Friday, September 3 and Saturday, September 4 at Hunter's Ridge Golf Course in Marion, Iowa. The Vikings shot rounds of 360 and 357 on the par 71, 5,811 yard course to finish with an overall total of 717.
Truman State ran away with the team title on the second day of completion, firing a 321 after an opening round of 350. Ashford edged the Blue & Gold for second with a 714 after identical team scores of 357. Augustana finished in front of Mount Mercy (367 + 358 = 725), Grand View (375 + 365 = 740), Knox (413 + 375 = 788), and Cornell (428 + 450 = 878).
Junior Brittany Carr (Lincoln-Way East HS, Frankfort, Ill.) led the way with a 10th place individual finish. She shot a 91 in the first round and came through with an 85 on the second day of completion, finishing with a total of 176. She finished 12 strokes behind Ashford's Jordan Davis (79 + 85) and Truman State's Liz Lestmann (84 + 80), who tied for medalist honors with a two day total of 164.
Sophomores Megan Vandersee (Sterling HS, Sterling, Ill.) and Morgan Wilkinson (Westmont HS, Westmont, Ill.) also produced impressive results at the two day tournament. Vandersee placed 14th with a 180 after a pair of 90's on the course. Wilkinson tallied a 92 in the first round and also shot a 90 on the second day to finish at 182 in 15th place overall. Senior Jessica Berens (Schaumburg HS, Schaumburg, Ill.) was also a top 20 finisher, tying for 16th place with a 184 after shooting an 87 and a 97.
Freshmen Dena Capitani (Hinsdale Central HS, Hinsdale, Ill.), Kelly Farina (Normal West HS, Bloomington, Ill.), and Jamie Lawrence (Moline HS, Moline, Ill.) all finished closely together in the top 25. Capitani took 21st place with a 190 (98 + 92). Farina tied for 22nd with a 191 (98 + 93). Lawrence shot a 103 in the first round, but rebounded with a 90 in the final round to finish at 192, tying for 24th place.
Senior Courtney Vandewiele (Alleman HS, Rock Island, Ill.) and freshmen Katelyn Lazar (Williamsville HS, Sherman, Ill.), Megan Alano (Lockport HS, Lockport, Ill.), Kelly Olson (Prairie Ridge HS, Crystal Lake, Ill.), and Emily Comperda (Geneva HS, Geneva, Ill.) also competed at the tournament for the Blue & Gold. Vandewiele tied for 37th place (101 + 110 = 211) and Lazar was right behind in a tie for 39th (104 + 109 = 213). Alano finished in the 42nd spot (112 + 107 = 219), Olson took 45th (116 + 110), and Comperda placed 48th (129 + 110 = 239).
Story written by Assistant Sports Information Director Adam Strand