September 5, 2010
2010 Season - Vikings fall despite advantage in shots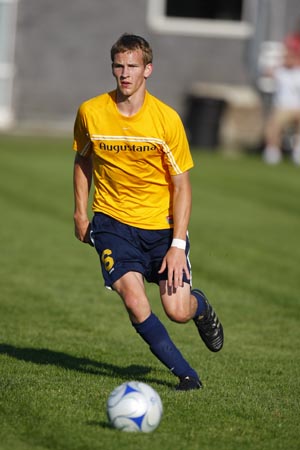 In a 1-0 loss at Coe on Sunday, September 5 in Cedar Rapids, the Vikings had a 19-4 advantage in shot attempted. Sean O'Malley led the way with five of those attempts.
The Augustana men's soccer team dropped its second straight contest by one goal to open the season, falling 1-0 to Coe on Sunday, September 5 in Cedar Rapids, Iowa. The Vikings are now 0-2 overall after losing a 2-1 overtime decision to Chicago in the opener.
The Vikings held the edge for much of the first half, peppering the Kohawk goalkeeper with seven shots, but were unable to stick one in the back of the net. Coe only managed three shots, but Jacob Johnson scored on an assist from Joe Frerichs in the 39th minute to put the home team in front.
Although Augustana trailed 1-0 at the break, the Vikings continued to pressure the Coe defense in the second half. The Blue & Gold fired off 12 shots but could not score against a stout Kohawk defense. The Vikings finished with a 19-4 advantage in shots and a 9-2 lead in corner kick attempts, but ended up on the wrong end of the scoring ledger at the end of the day.
Senior Sean O'Malley (University HS, Bloomington, Ill.) led the Vikings with five shots overall. Sophomore Jason Beckus (Naperville Neuqua Valley HS, Naperville, Ill.) and juniors Cory DeGrave (Fremd HS, Palatine, Ill.) and Sean Fidlow (Carmel Catholic HS, Gurnee, Ill.) each had two shots on goal. Freshman Tyler Cowherd (Bettendorf HS, Bettendorf, Iowa) made one save in goal while playing the entire 90 minutes of action.